UNAIR NEWS – "This is a revenge reaction to the poverty experienced so far. When a sudden glory can be achieved quickly and suddenly. This is the peak of revenge being released at the same time about dreams. " That's a piece of expression implied in the the Dramaturgi performance by students of Indonesian Language and Literature Faculty of Humanities, Universitas Airlangga at Cak Durasim Arts Building some time ago. The annual program titled Dramaturgi XIV was successfully held and it performed a play by Arifin C. Noer "Mega-Mega" .
Dramaturgi XIV on Sunday, December 23 was the final task as well as the greatest achievement of Dramaturgy course in UNAIR Indonesian Language and Literature program. It is a stage production from students who are not from theater background. It is held every year, this time the performance was the 14th.
The lecturer and Vice Dean I FIB, Puji Karyanto, S.S., M. Hum., in his remarks congratulated all students of the dramaturgi class on the stage.  Puji appreciated the teamwork and responsibility of all committee members. There were 38 people involved in the performance.
"I'd like to say congratulations and success to you (Dramaturgi XIV committee, ed). This performance is the culmination of the process and your hard work. Once again congratulations on the excellent teamwork and responsibility so that everything can go well. This is the highlight of the night, "he said on stage followed with the applause from the audience and the committee.
 Revenge of Poverty
The Dramaturgi XIV was done by 2016 UNAIR Indonesian Language and Literature students. The manuscript, entitled Mega-Mega, tells the story of a group of homeless people who have won the lottery.
They were then intoxicated and blinded by their glory. The reaction was a revenge response to the poverty they had experienced so far.
The homeless people immediately went to the bank to exchange lotteries with money. However, the bank director refused because it was still early in the morning and the bank is not opened yet.
Finally the director advised them that if they wanted to eat and shop crazily at that time. They were asked to show the lottery ticket from the newspaper.
They were very happy to hear it and went straight to the restaurant to eat as much as they could. Then, the homeless also bought a palace complete with its king. They become rulers and owners of Kerajaan Mega.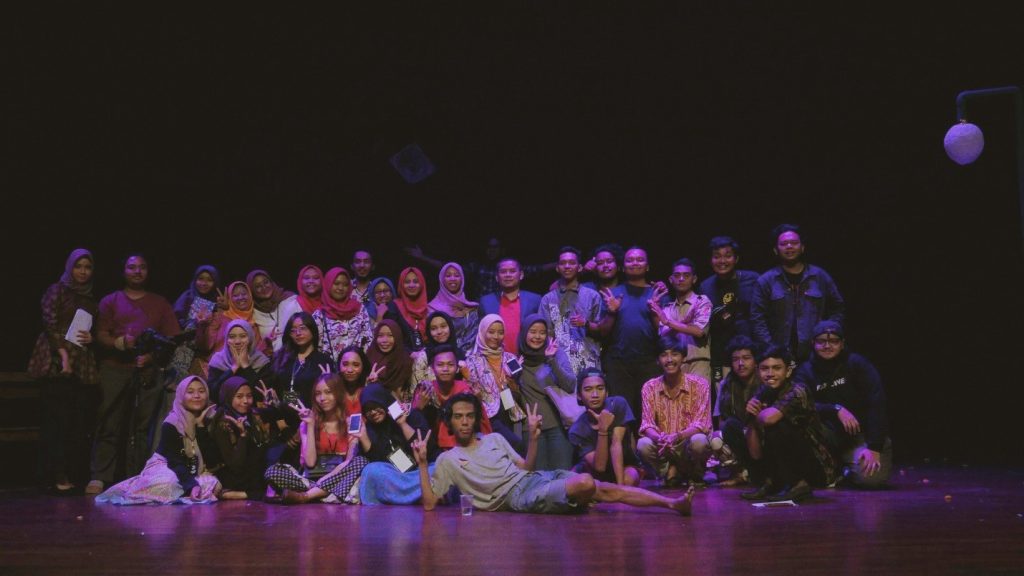 Directed by Nur Rahayu and produced by Nurul Kurnia, the performance involved six actors. The players involved in the performance were Fifin as Mae; Ahmad Kumaini as Koyal; Fachri Ihsan as Hamung; Aditya Catur as Tukijan; Rainita as Retno; and Angga Aditiyak as Panut. The appearance of all actors managed to amaze the audience.
According to Rahayu, the team wanted all philosophical meanings in Mega-Mega to be an afterthought for all humans,  those who have dreams. In addition, the production emphasizes the comedy situation without losing the meaning of the text message.
"This production is expected to be able to entertain and give meaning from the dreams of leaders who are struggling to make it happen," said Nur Rahayu. (*)
ALL the actors and UNAIR Indonesian Language and Literature Dramaturgi XIV production team after the performance at the Cak Durasim Building. (Photo: By courtesy)
Author: Nova Yuniar / Feri Fenoria