UNAIR NEWS – Aesculap Environmental Study Group Faculty of Medicine, Universitas Airlangga (KPLA FK UNAIR) won 3rd place in Meridien Cup VIII 2019 competition in Jakarta on Sunday, April 14. The national competition was held by Muhammadiyah Medical Response Team in Disaster and Human Being (TBM Meridien) FK Universitas Muhammadiyah, Jakarta (UMJ).
Unair team won competition in the field of Medical Competition of Emergency and Traumatology (MCET). The team consists of Margaret Ayu Caroline, Fariza Nur Aini, and M. Helmi Imaduddin.
Sharing her experience, Margaret Ayu Caroline explained before each team had a workshop. During the competition, she accidently break the tools used in the competition because she felt awkward.
This awkward feeling caused by material taught at workshop was not the same in the competition. With confidence, the team tried give their best of the competition.
"At first you were wrong, in the end you understood and did it right, unfortunately you broke the tools." said one of the judges in the competition.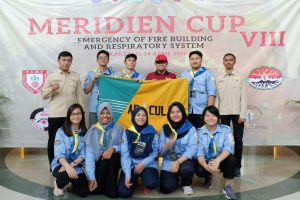 From various experiences, Caroline was very grateful that she won Meridien Cup. Not only the competition, various evaluations from the jury motivated her to develop KPLA.
The development includes KPLA medical cadre by reviewing medical curriculum. The study was conducted with seniors to upgrade their knowledge.
In addition, she wanted to help the community in natural disaster area. This year, KPLA will collaborate with Airlangga Warrior Floating Hospital.
In addition, the prizes obtained were used to purchase medical equipment for disaster units. Thus, the tool will be used for training and medical jobs.
"I think the interesting thing about the competition yesterday was FK UNAIR character, especially KPLA," she explained.
Seeing KPLA still have time to joke around while the other groups were busy learning and managing strategies during break time. KPLA received appreciation from other groups for successfully entering the final round and winning.
"We've practiced and learned a lot before, we just want to give our best and have fun." he added. (*)
Author: Mu'ammarin Rosikhuna Ilma
Editor: Khefti Al Mawalia