UNAIR NEWS – As a democratic country and a state based on law, experts, and people with responsibility for legal policies, must have begun to think about the development of national law relating to international law. For this reason, Directorate of Law and Agreement on Politics and Security, Indonesian Ministry of Foreign Affairs held an "Expert Meeting on Basic Framework Development of National Regulation Concept on the Implementation of UNSC Resolution".
Being held at JW Marriot Hotel Surabaya on Tuesday, Jan. 29, the activity involved several experts, practitioners, and academics from Faculty of Law, Universitas Airlangga. On that occasion, Director General of International Law and Agreement of Ministry of Foreign Affairs Dr. lur. Damos D. Agusman said that as a democracy and a state based on law, Indonesia must indeed begin to think of national development related to international law.
It showed that as part of the international community, Indonesia is committed to the law. Therefore, all the norms of international law must be clear on their status.
"Mainly, in the mechanism system of our national law. And this is the best moment to discuss it, "he said.
Regarding the formulation of the bill that will be issued, he continued, this is indeed a long step. Many studies can be carried out by involving many experts, including practitioners and experts from Universitas Airlangga.
"If this has been realized, we all hope that our efforts as a nation will be clearer in carrying out our obligations and there will be no clashes in carrying out international obligations," he said.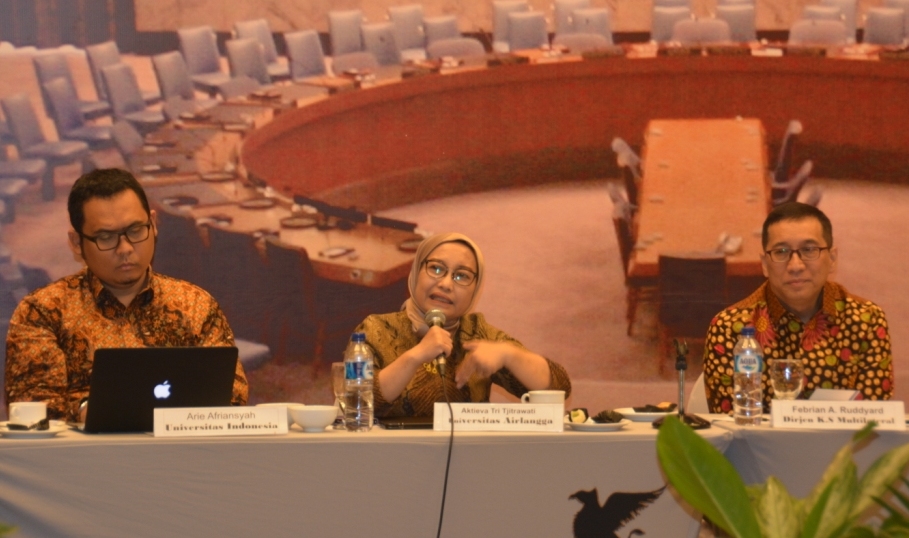 Meanwhile, Director General of Multilateral Cooperation Ministry of Foreign Affairs Febrian Alphyanto Ruddyard on the same occasion said that if it could be implemented immediately it would give legal certainty in the country to perform state obligations in implementing international law.
"Therefore, he continued, a link is needed so that our obligations to international law could be applied in national law. This can be realized through a bill or a presidential decree. We certainly hope that with this, our obligations to international law can be applied domestically, "he explained.
As one of the experts from FH UNAIR who attended, Dr. Aktieva Tri Tjitrawati, S.H., M. Hum., said that there are obstacles in implementing this. Some of the challenges facing Indonesia to implement this can be seen from various aspects, from constitutional, theoretical, normative, and praxis aspects.
"In terms of praxis, for example, the low legal certainty of Security Council resolution as a source of International Law has experienced inconsistency of Security Council in implementing the resolution. Besides, the strong political nuances in the formation of Security Council resolution are also seen, " she explained.
Author: Nuri Hermawan