UNAIR NEWS – Universitas Airlangga through Information and Public Relations Center with Information and Public Relation in Regional Police of East Java invited OSIS members (Student Council) throughout East Java to maintain NKRI (Unitary Republic of Indonesia) integrity by reducing hoaxes. The statement and commitment were voiced at National Dialogue on the Role of Millennial Generation in Maintaining NKRI event on Thursday, 13 December in East Java Kapolda Mahameru Hall.
There were student council of high school and vocational student from 17 cities and regencies throughout East Java. Starting from Surabaya, Pasuruan, Madiun, Nganjuk, Kediri, to Probolinggo. The total number of participants reached to 650 students.
The event wrapped in police exhibition and it was guided directly by Head of Information and Public Relations Center (PIH) UNAIR, Dr. Suko Widodo. Before the activity begins, there were outdoor exhibitions from Criminal Investigation Division (Bareskrim), Security Maintenance Division (Baharkam), Security Intelligence Division (Baintelkam), Maritime Police (polair), Traffic Corps (Korlantas), and Mobile Brigade Corps (Brimob).
Regional Police Chief of East Java Irjen. Pol. Drs. Lucky Hermawan. In his greeting, he said that East Java has great potential on younger generation, particularly highschool student. Moreover, they are included in millennial generation category.
"All of you are a generation that born on digital and technology era. I'm sure all of you are better in using technology than me." he said.
Therefore, Lucky appealed to millennial generation, high school student to be active in real world also. Even though they are very close to digital-based interaction and communication through social media, they are still expected to have a sensitivity towards the environment and people in here. Especially, maintaining the integrity of NKRI through resistance to hoaxes.
"The rapid dissemination of information on social media requires checking and verification. That's what youth need to do and they should not be consumed by certain issues, "he said.
Meanwhile, Dr. Suko in National Dialogue invited several representative students from 17 cities and regencies who were present to express their opinions related to their voice for NKRI. The nationalism movement for NKRI can be shown in the form of discipline and study hard.
In addition, there was also another opinion that nationalism movement can be shown in respectful behavior towards each other.
In the end of the dialogue, Seno Bagaskoro, one of SMAN 5 Surabaya student urges other student to maintain NKRI (Unitary Republic of Indonesia).
"A lot of people out there still dont know how to express their appreciation for NKRI " he said.
"It's time for us to work together with police, become a police partner and counteract issues that can undermine NKRI integrity.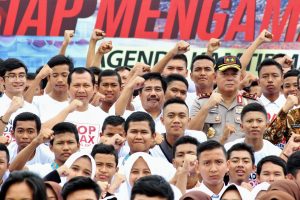 Dr. Suko urges teenagers to be active in social media and to be wise to use it. Especially as appreciation for NKRI. Towards to political year, there are so many hateful and blasphemy message. Therefore, highschool student can be pioneer to stop all of hateful message.
In the end of dialogue, Ikrar Cinta Bangsa declaration was also held by Student Council administrators. Particularly, regarding to the commitment of maintaining NKRI integrity. (*)
Author: Ferry Fenoria