UNAIR NEWS – The second day of Work Meeting – FGD Administrators and Supervisors at Universitas Airlangga was filled with a focus group discussion. The discussion taking place at Ballroom of Illira Hotel, Banyuwangi on Monday, Jnauary 27, was hosted by Noven Suprayogi SE., M.Si., Ak.
When starting the FGD, the FEB lecturer known as Noven asked all participants to write down the biggest problems that occur in their work units online using their own devices. It made the FGD more alive and measured.
"Please all write down what problems exist in each work environment," Noven said.
After each participant wrote on the provided web page, the problems could the viewed on the screen. These problems could be about communication, slow internet connection, complicated things, fear of making decisions, planning problems, incompatible competencies, different understanding, lack of staff, organizational ineffectiveness, coordination, and lack of procedure understanding.
From the existing problems, some problems are experienced by all work units. One of them is lack of procedure understanding. Noven then asked some participants to explain the problem aforementioned.
One of the participants, Yunus Abdul Halim S.Si., M.Kom., from University Secretariat said there are several application-based services and every year many questions are repeated, related to the rotation.
"So after rotation there will be same questions," he said.
Furthermore, Lilik from the finance department, alluded to the absence of enrichment program as a medium for refreshing and strengthening cohesiveness among employees. She believed that it is indeed very important, as a human being who runs the wheels of an organization, they need to have a recreational activity at least once a year.
"Maybe the output seen as fun activities, but this enrichment activity is an important moment to restore enthusiasm and strengthen cohesiveness among employees," she said.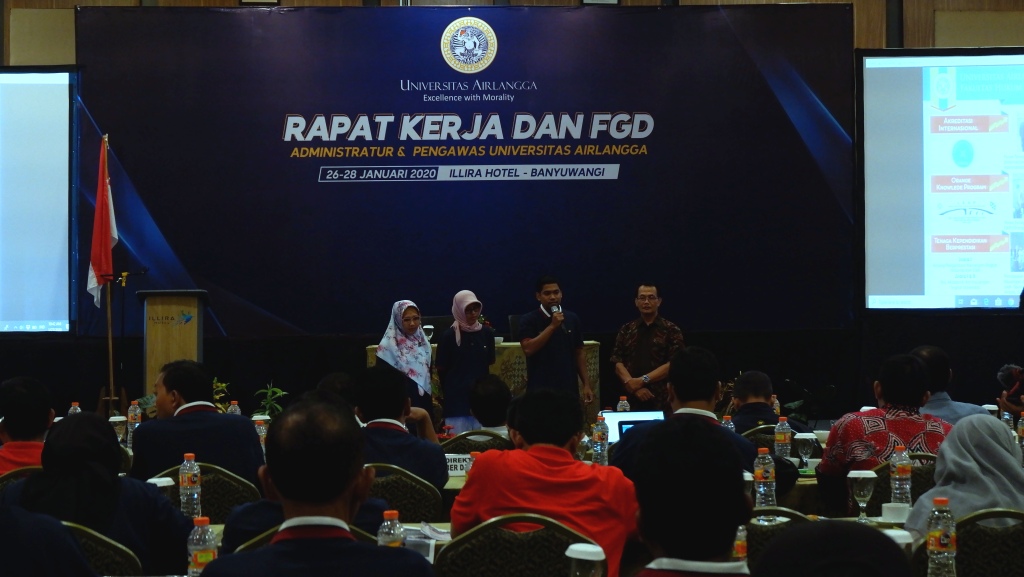 After several representatives explained the existing problems, Noven then asked participants to re-write the right solutions to the problems that had been written down. There were several solutions recorded, such as regular coordination meetings, system automation, enrichment with work meetings, gifts for high-achieving staff, and trainings.
After conducting the FGD, selected participants presented posters containing the achievements of their activities in 2019 and planned activities in 2020. From all faculties and directorates, there were 10 posters selected for presentations. These posters were from FKM, FIB, FH, FEB, FPsi, SU, LPI, DSI, FKp, and SDM.
Author: Nuri Hermawan