UNAIR NEWS – Great enthusiasm from the members seen as they did not leave the venue until the end of the celebration. It was a successful 2nd Anniversary of Retiree Association of Universitas Airlangga (PKPB), which was held in Kahuripan Hall, Campus C UNAIR, Wednesday, April 3, 2019.
At 8:15 the event was started even through the attending members were just around 50% out of all members who have confirmed attending. It was started by singing Indonesia Raya songs, followed by Mars PKPB UNAIR.
PKPB 2nd Anniversary celebration was attended by UNAIR Deputy Rector II Dr. Muhammad Madyan, SE., M.Si., M.Fin., representing the Rector, accompanied by HR Director of UNAIR, Dr. Purnawan Basundoro, SS., M.Hum.
As the event led by H. Hadi Gunawan, PKPB members continued to come in to the venue. Ninety-three people were present from a total of 172 PKPB members recorded since April 1, 2017, when this organization was formed.
"This is a new record of attending members in PKPB activities. Hopefully in the future there will be more members coming to participate in the activities, "said Hadi Gunawan.
In his speech, UNAIR Vice Rector II Dr. Muhammad Madyan, explained about the dynamics of employment at this PTNBH university. It was said, for about six years Universitas Airlangga did not get a new formation for employee recruitment. Therefore, to overcome the needs of HR to carry out work, the university appoints temporary employees and contract employees to become permanent non-civil servant employees with the same rights.
"In the future, the staff working in UNAIR must match with their competencies. So, if they are also capable then they can occupy certain higher positions, "said Muhammad Madyan.
With the establishment of PKPB UNAIR, if there is a program to send staffs to retirement, PKPB representatives will be invited and introduced to them. PKPB UNAIR is officially formed and approved by Ministry of Justice and Human Rights in accordance with the Minister of Law and Human Rights Decree Number AHU-0005333.AH.01.07 Year 2018 on April 19, 2018.
" I expect prayers from all the retirees so UNAIR will be able to meet the target mandated by Ministry of Research, Technology and Higher Education," added Muh Madyan.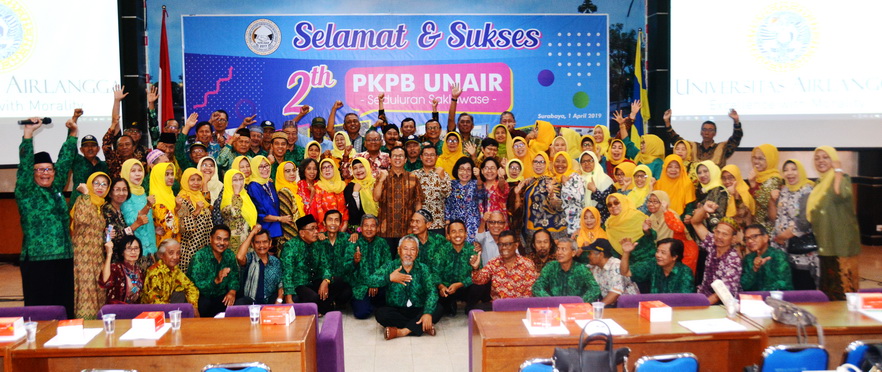 WORK PROGRAM
On this occasion, Head of PKPB UNAIR, Dra. Kusmawati also reported the activities carried out together for one period in 2018. The activities beside regular quarterly meetings in members' homes, also social services both to orphanages, orphans, and victims disaster, such as activities to ease burden of earthquake victims in Lombok (NTB) and the earthquake-tsunami in Donggala.
After break, there was a presentation on 2019 program by H. Hadi Gunawan, all members were enthusiastic and agreed on them. Some of them programs are printing the PKPB UNAIR Members' Directory book as a memorable book, iftar event, Halal Bihalal, recreation event, uniform t-shirt printing, as well as regular quarterly meetings.
After the presentation of the work programs, there were other activities such as testimonial sessions from members, from newest members and the oldest members with some music entertainment. There were also dozens of door prizes for those who attended, the most active ones, and the most diligent.
They also agreed to establish a karawitan group as one of PKPB members, Sabarohwati, has gamelan instruments, so they are offered to be used. The festivities ended with singing and dancing together on songs like "Kapan-kapan" (Koes Plus) and "Kemesraan" (Iwan Fals). (*)
Author: Bambang Bes