UNAIR NEWS – In the long journey of language history of the world, February 21 was commemorated as International Mother Language Day (IMLD), known as International Mother Language Day.
According to www.un.org, the idea to commemorate International Mother Language Day was an initiative of the people of Bangladesh. In that country, February 21 is celebrated as an important moment for all the efforts and struggles that had been made for the recognition of Bangla language.
Regarding International Mother Language Day this day, February 21, 2019, the expert in Linguistic Ethnography of Universitas Airlangga Dr. Ni Wayan Sartini., M. Hum., made some statement. According to her, the commemoration of International Mother Language Day is very appropriate to build awareness on the wealth of regional languages ​​in Indonesia.
"At a moment like this, we must be more concerned and aware that in our country there are about 720 regional languages ​​with different conditions," she explained. "We must also be aware that Mother Language is the first language for most Indonesian people," she added.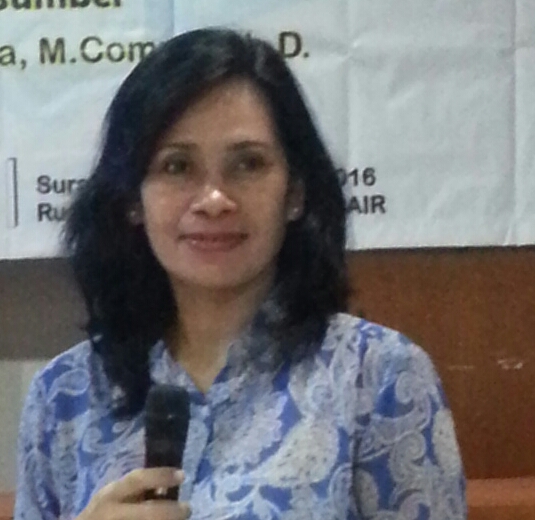 Ethnolinguistic Expert at Universitas Airlangga Dr. Ni Wayan Sartini, M.Hum. (Photo: By courtesy)
Mother tongue, she continued, is a nation's wealth that contains cultural values ​​of the region. For this reason, the doctoral graduate from Bali's Udayana University stressed that mother tongue really must be maintained.
"This is an attempt to prevent mother tongue from becoming extinct and eroded by modernization and the flow of globalization," she explained.
Regarding efforts to preserve and preserve mother tongue, the Head of UNAIR Linguistics Science Master's Program Department said that serious efforts should be made, such as including the languages in the school curriculum, making dictionaries, and conducting studies to determine the conditions of the languages ​.
"Not only that, efforts should be made to promote the use of regional languages ​​in the linguistic landscape of a region," she said.
In the end, the lecturer who was very focused on researching the local language confirmed that serious effort was needed to preserve the mother tongues. The younger generation should not forget their cultural roots even though they soar to reach modernization.
"Because, maintaining language means preserving culture," she concluded.
Author: Nuri Hermawan