UNAIR NEWS – Universitas Airlangga (UNAIR) Student Organizations open recruitment for Sunda Strait tsunami disaster volunteers. The organizations consist of Student Executive Body (BEM) UNAIR, faculty BEM, communication forum (forkom), Wanala (Mountaineering club), Disaster Response Students (Mahagana), scouts, KSR-PMI, and student regiments (Menwa).
Iqbal Adi Kurniawan or Iqbal as the person in charge of the activity explained that the recruitment was carried out as a response to the input from fellow students. In addition, this mission is carried out on behalf of UNAIR. So, other students also have the right to participate in it.
"So there won't be only representatives from the organizations who will go to the site, but also other UNAIR students," said Iqbal.
The requirements to volunteer are active students of UNAIR class of 2015-2018, committed to going directly to the disaster site, and in good health and filling in the registration form on bit.ly/VolunteerBencana.
In addition, prospective volunteers can also choose sub-teams that are suitable for themselves. Sub-teams include trauma healing / psychosocial support, medical, driver, logistics, consumption, and publication and documentation (pubdok).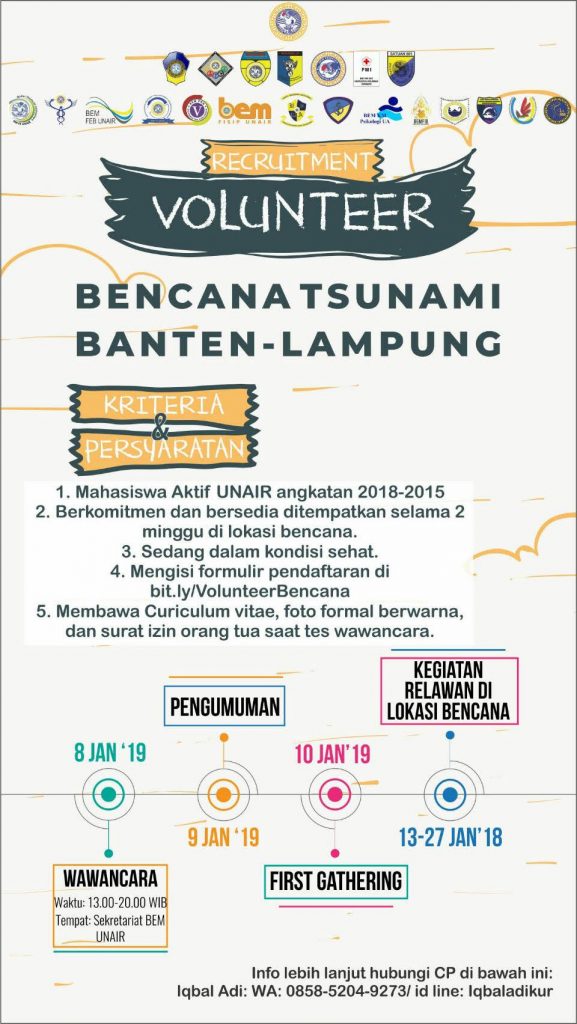 After registration, prospective volunteers can conduct interviews on Tuesday, January 8 at BEM UNAIR secretariat from 13.00 WIB to 20.00 WIB. The results of the interview will then be announced on Wednesday, January 9 and on Thursday, January 10. First gathering will be held as an introduction to selected volunteers.
"In this recruitment, we are not just looking for smart people. But looking for someone who has a high sense of humanity and clear intention, "explained Iqbal.
In the future, the volunteers will be placed on various disaster sites for two weeks. For selected disaster sites, Iqbal has not been able to ensure whether the team formed will go to Banten and Lampung, or one of them.
"For the location, we will see conditions in the field later," Iqbal said.
Iqbal hoped that after the activity is carried out, UNAIR students can be more aware to the surrounding environment. And, they can further uphold one of the Tri Dharma of Higher Education which is community service.
"Hopefully the volunteers can take advantage from this moment to serve the community and Indonesia," Iqbal said. (*)
Author: Galuh Mega Kurnia
Editor: Binti Q. Masruroh