UNAIR NEWS – Asia University Taiwan has invited 12 UNAIR Information System D3 (Three-Year Vocational Program) students to participate in the online course program as a virtual 'Student Outbound in Asia University Taiwan.' The program took place from July 28 to August 27, 2021, with various interesting materials and activities. The program aims to help students be more innovative, creative, critical, and flexible in making decisions.
The Online Course program was very interesting because there were many provided courses related to the operation and development of software in the field of design and artificial intelligence. Some examples of the programs (courses) were Artificial Intelligence (AI), Web Design, Innovation and Decision, Creative and Cultural Industry, Artificial Intelligence Application in Management, and other programs such as Language and Culture. Furthermore, Asia University Taiwan also introduced the culture related to the economy and the language applied there.
Innovation and Decision
This course teaches the concept of thinking and decision-making in organizations and businesses. From June 28 to July 21, 2021, Prof. Chang Jun Ping as one of the lecturers opened it by introducing Taiwanese culture in the form of tourist attractions, cultural heritage, and beliefs in Taiwan.
In addition to learning about the concept of thinking, other teachers also provided knowledge related to fintech, technology, data processing, and programming. At the end of this program, the students were given an opportunity to carry out a final project in the form of analysis and review of all the taught materials.
Creative and Cultural Industry
The ultimate goal of this course is to develop the students' creative skills in the field of design. The creative design learning concept uses culture as a source of inspiration. The students in the industry will apply the results of these creative designs.
Some of the topics discussed during this course were Design Engineering, Interior Design, Design Drawing, Fashion Design, Creative and Cultural Cities, and Animation Storyboard. All topics were given for ten days from July 5 to 15, 2021, with a duration of 6 hours a day. As a Final Project Presentation, the students carried out cultural and creative industry projects about the culture of their respective hometowns independently or in groups.
Web Design
This course was taught from August 2 to 20, 2021, with the opening by Prof. Edgar Lin from Asia University Taiwan. During the course, Prof. Lin gave lectures on website creation from basic html to javascript. The participants also received module books and learning videos related to what they had learned in the class.
This course program requires an application for smooth communication. Therefore, Prof. Lin used the 'tronclass' as a discussion platform. In addition to the tronclass application, they also created a private Facebook group as an additional platform. As the output, the students created websites individually and sent them to Prof. Lin's server.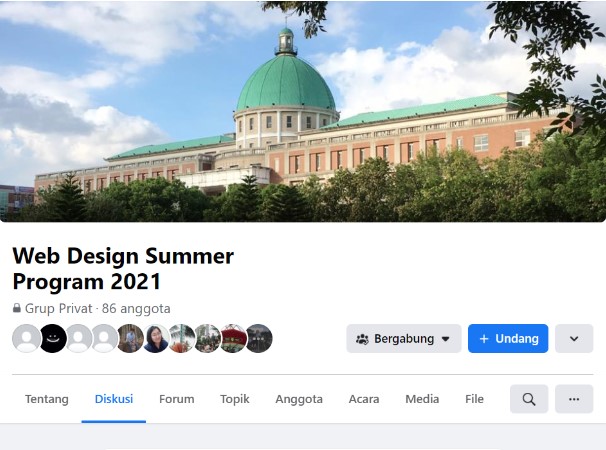 Artificial Intelligence Application in Management
This course teaches students to apply Artificial Intelligence in everyday life, especially in the fields of management and finance. The course took place from August 2 to 27, 2021, Mr. Chang, as the lecturer, also introduced Taiwanese culture first.
Mr. Chang and his team provided materials related to programming techniques such as Python in artificial intelligence, the application of artificial intelligence in finance technology, data mining in AI accounting information systems, and big data. Furthermore, they also provided several soft skill training such as leadership and cross-communication in management, social media analysis, digital economy analytics, and investment decision analytics. As a final project, the students made and presented a paper related to the culture of the city they live in.
Author: Muhammad Ichwan Firmansyah
Editor: Feri Fenoria (YA/AP)