UNAIR NEWS – In Virtual Airlangga Education Expo (AEE) 2021, Faculty of Medicine (FK) and Faculty of Dental Medicine (FKG) were the first two faculties to do faculty info session. Held on Monday, February 15, 2020, both FK and FKG presented their respective deans to answer questions from thousands of enthusiasts of the two popular faculties of UNAIR.
Dean of FK Prof. Dr. Budi Santoso, dr. Sp.OG (K) in the first occasion explained the ins and outs of the first and oldest faculty at UNAIR. Prof. Budi emphasized that FK UNAIR already has an excellent academic environment.
Being the top two faculty of medicine in Indonesia, FK UNAIR has two main hospitals, Dr. Soetomo and UNAIR Teaching Hospital. FK UNAIR is also affiliated with dozens of other hospitals spread across various regions.
FK main activities are not only limited to academics and research spread across 28 departments. FK UNAIR has consistently contributed to community service activities, self-development programs, international outbound programs, and training that support students' academic output.
One of FK UNAIR's major contributions can be seen in the works of Ksatria Airlangga Floating Hospital (RSTKA). Having sailed hundreds of islands in the eastern Indonesia, FK UNAIR has become one of the main supports for medical volunteers in the phinisi ship.
"Therefore, the high academic quality and high number of enthusiasts each year should be a concern for all students who want to join us. Both SNMPTN, SBMPTN, and Mandiri, we are waiting for all of you to become part of FK UNAIR big family," he explained.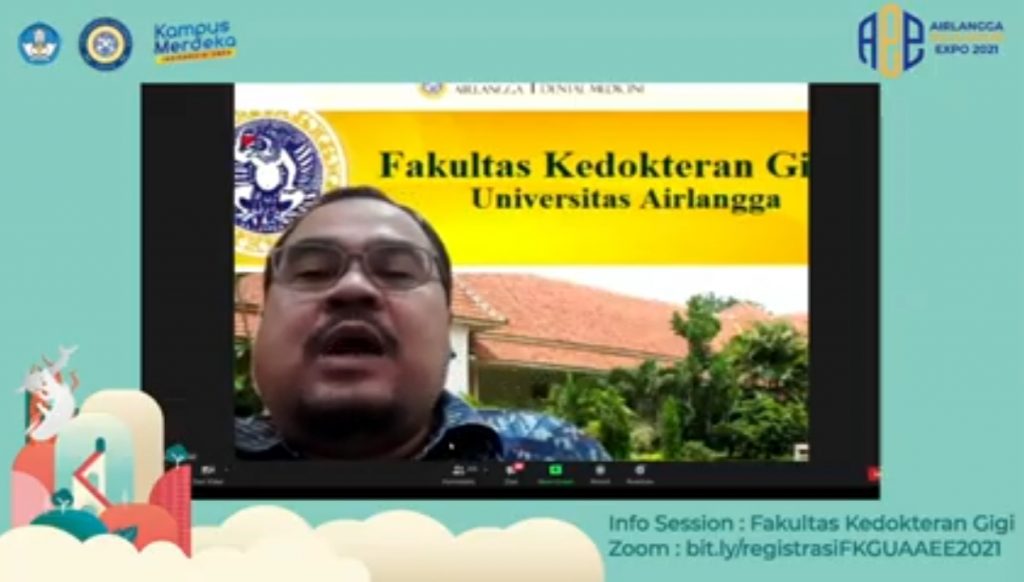 Meanwhile, FKG UNAIR info session was presented by Dr. Anis Irmawati drg., M.Kes. explaining in details the FKG academic, non-academic, and international programs. Accredited nationally and internationally, FKG UNAIR oversees five academic programs, undergraduate, professional, master, doctoral and specialist programs.
FKG UNAIR' has made various international achievements at the Asia-Pacific and global levels. The achievements are supported by the quality of the teaching staff who have produced many international journals such as Scopus and Thomson Reuters.
"For international activities, we also have a study abroad program in collaboration with several partner universities in Japan and Malaysia," explained the Head of Public Relations FKG UNAIR.
Meanwhile in the question and answer session, Dean of FKG UNAIR Dr. Agung Sosiawan, drg., M.Kes. attended to welcome the participants from various regions in Indonesia. Dr. Agung explained that FKG UNAIR graduates have a different orientation and are trying to answer the challenges of the Industrial Revolution 4.0.
"Dentists now have to possess an entrepreneurial skill in order to be able to predict what will happen in the coming years. Therefore, our graduates are not only limited to being dentists, but can also become entrepreneurs, CEOs of medical start-ups, military dentists, and researchers, "he explained.
Through these two webinars, both FK and FKG UNAIR also tried to provide the best information and answers to thousands of interested prospective students. Information about FK and FKG UNAIR itself can still be accessed until Wednesday, February 24, 2021, through the faculty booth on the eduexpo.unair.ac.id website. (*)
Author: Intang Arifia
Editor: Nuri Hermawan