UNAIR NEWS – On the second day of Airlangga Education Expo (AEE) 2021, February 14, 2021, after holding a Casual Talk with Ksatria Airlangga, the event was continued with a discussion entitled 'Ada Apa di UNAIR (lit. What's in UNAIR'). The speakers on the occasion were Director of Academic Affairs UNAIR Prof. Dr. Sukardiman Apt., MS., and Head of Airlangga Global Engagement Iman Harymawan SE., MBA.Ph.D.
Prof. Sukardiman explained a little about the struggle to become a UNAIR student. At that time, he continued, in 1982 when technology was not as advanced as it is today, information about universities was not as massive as now.
"Therefore, this moment is the right time," he said.
Furthermore, Prof. Sukardiman explained various information about UNAIR. Starting from a brief history of UNAIR, the number of faculties and programs, to educational facilities. Prof. Sukardiman also explained the learning process at UNAIR.
"During this pandemic, we will optimize the role of e-learning facilities in lecture activities," said Prof. Sukardiman.
The next topic was an explanation about scholarships at UNAIR. According to him, UNAIR offers a lot of scholarship programs. It is recorded that more than 20% of UNAIR students have received scholarships to study at UNAIR.
"In fact, not only at the undergraduate level, at the master and doctoral levels UNAIR also provides educational assistance," he explained.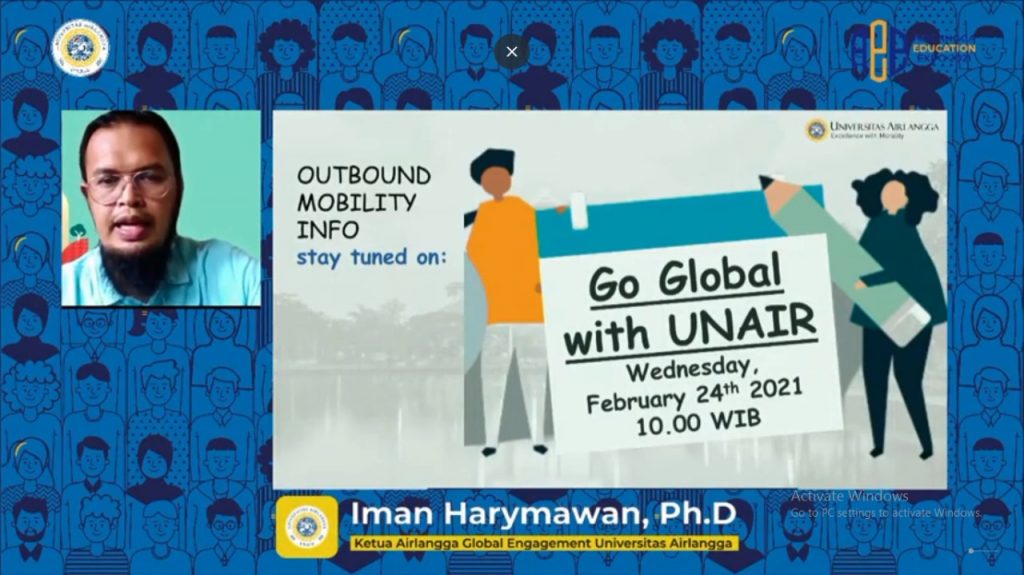 Head of AGE UNAIR Iman Harymawan, discussed various information about international programs at UNAIR. According to him, the unit he leads is a forum given by UNAIR to all academicians in optimizing collaboration with the international community.
"It is proven, in the global arena UNAIR has made many achievements, from the assessment in THE Impact Ranking, WCU Ranking, and many other achievements, " he said.
At the end, Iman emphasized the importance of UNAIR's role in the world arena. According to him, by being active in synergy and collaboration at global level, participation in solving wider problems can be carried out.
"In addition, this process requires a very complex method and all members of the community can participate in the programs that we offer. One of them is studying abroad, "he explained.
Author: Nuri Hermawan