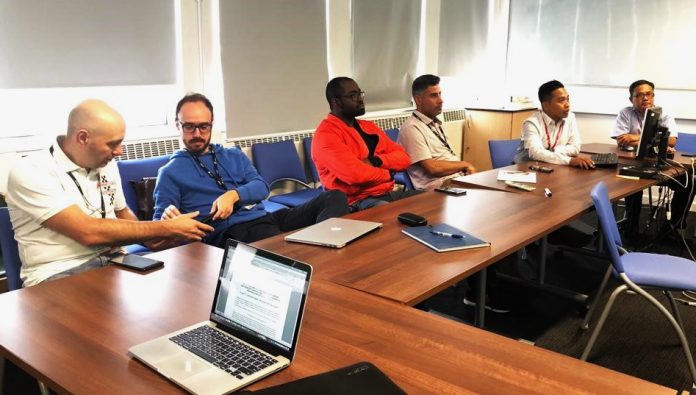 UNAIR NEWS – Research funding from Newton Fund was achieved by the Department of Physics, Faculty of Science and Technology (FST) Universitas Airlangga. The title of the research for the collaboration is " Fiber Optic Sensor for Food Safety ", and the research team from UNAIR is led by Prof. Dr. Moh. Yasin, M.Si and Andy Hamim Zaidan, M. Si, Ph.D as the member.
On September 10-14, 2018, a discussion and presentation on the results of the research and the publication was accepted in high impact journals.
The first presentation was delivered by Prof. Moh. Yasin and the discussion led by Dr. Auro Perego, one of Italy's postdoctoral staff . This research is under the direct control of Director of Aston Institute of Photonics Technologies (AIPT), Prof. Sergey Turtysin from Aston University with full funding from the United Kingdom (UK).
Andy Hamim Zaidan, M.Si, Ph.D also explained the partnership continuation of Department of Physics at Faculty of Science and Technology UNAIR for Newton Funding proposal in 2019 under the title " Plasminic Sensor for Food Safety and Medical Application" . This Biophotonic research has already been done in FST UNAIR, therefore UNAIR is brave enough to submit research applications in medical field which is the excellence of this university.
According to official sources, the potential in UNAIR FST Department of Physics will be maximized at an international level. Two titles presented on Photonics for Medical Diagnostics Workshop were Fiber Optics Sensor for Heart Rate (Prof. Dr. Moh. Yasin and team) and In vitro Cancer Cells Inactivation using Gold Nano rods Mediated Photo Thermal Effect (Prof. Dr. Retna Apsari and team) were one of the earliest evidences of UNAIR's excellence in the realm of medical application.
In the future, this research will be continued by staff and student outbound through the post doctoral program and Multiply Funding to work on research at Aston Institute of Photonics Technologies. While the research for food safety applications has been running this year and will be continued in 2019 for the optimization of the system and its applications.
The origin of this research and publication collaboration is expected to increase the number of publications and increase the UNAIR academic peer list. Delegation interaction in the laboratory at Aston Institute of Photonics Technologies (AIPT) Birmingham is also expected to open opportunities for follow-up collaboration with students who take master's programs, doctoral, and postdoctoral staff from various countries such as China, Malaysia, Russia, Nepal, India and Bangladesh.
The activity carried out by the delegation on 10-14 September, 2018 was a laboratory activity whose purpose was to find out the maximum potential of each university, so that collaboration would be maximized.
One observation caught the attention of UNAIR team was the complete laboratory which has quality assurance. These good practices can be implemented by Universitas Airlangga to improve laboratories at FST in particular, and throughout Universitas Airlangga in general. (*)
Author: Retna Apsari, from UK.
Editor: Bambang Bes