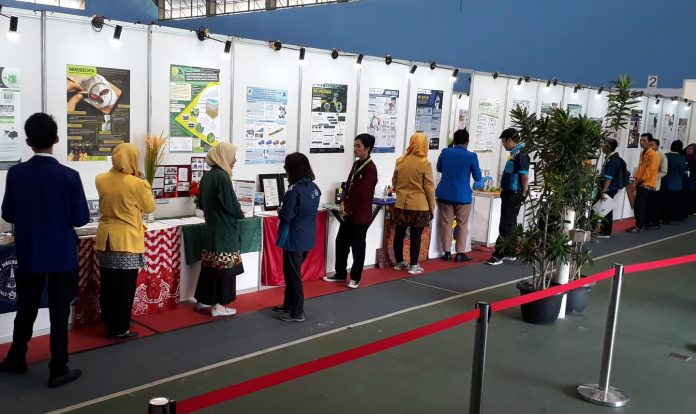 UNAIR NEWS – There were 440 posters from Student Creativity Program (PKM) participants of 31st 2018 National Student Scientific Week (PIMNAS). They were assessed by the judges after the opening ceremony of PIMNAS. The PIMNAS poster competition was held at Tennis Indoor Building , while the opening of the PIMNAS was held at Yogyakarta State University (UNY) Sports Building (GOR), Thursday morning, August 30.
The poster competition committee gave the opportunity for PIMNAS participants to put up posters and prepare products until Thursday at 09.00. After that the building was closed from visitors and participants to attend the opening of PIMNAS presided by Menristekdikti Prof. M. Nasir.
After the opening, the poster competition judges went to Tennis Indoor Building to assess 440 posters. In details, there are 20 posters of PKM-GT (PKM Written Ideas), 60 posters of PKMK (Entrepreneurship), 100 posters of PKMKC (Invention), 60 posters of PKMM (Community Service), 120 posters of PKM-PE (Exacta Research), 40 posters of PKM -PSH (Social Humanities Research), and 40 PKMT (Technology) posters. Among the 440 posters, there were seven posters by Universitas Airlangga students.
"Praise the God, the PIMNAS scientific poster contest ran smoothly, participants and visitors adhered to the rules set in an orderly manner," said Joko Mulyono, one of the committees.
In the judging process, the venue was instructed to be sterile from visitors. The only one who was allowed to wait for each poster was the PIMNAS participants. Thereby, judges can ask questions to students who attended the posters about their works.
"There are several posters that were not attended by students. It's okay, it's up to them, if the judges need to ask something. This is a competition, if the conditions are not met, it's their own risks, "said a judge from Malang.
The committee announced, after the posters were finished being assessed, they were exhibited to the public and visitors. So the poster can't be dropped. While the product title, especially valuable objects such as laptops, microscopes, and other tools or important prototypes, should be secured by each PIMNAS participant.
"The posters can be put down on Friday afternoon, after all PKM presentations have also been completed," the announcement from the 31st PIMNAS poster committee at UNY Yogyakarta. (*)
Author: Bambang Bes