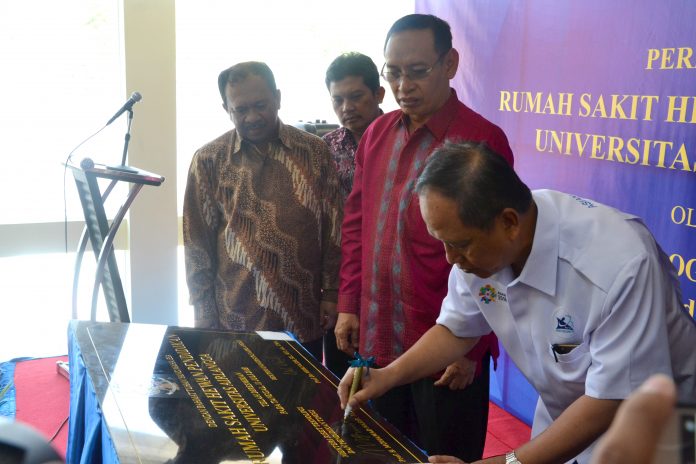 UNAIR  NEWS – Minister of Research, Technology, and Higher Education (Menristekdikti) Prof. H. Mohamad Nasir, Ph.D., Ak., inaugurated the Veterinary Teaching Hospital (RSHP) of Universitas Airlangga on Wednesday, July 11. Accompanied by UNAIR Rector Prof. Dr. Muhammad Nasih, SE, MT., Ak., CMA., Menristekdikti signed the inscription of RSHP UNAIR inauguration.
RSHP UNAIR was established on January 1, 1972 based on the Decree of the Minister of Education and Culture of Republic of Indonesia. Before it was inaugurated at the new location, RSHP UNAIR was located at Jalan Setail no. 1 Surabaya. The transfer to the new location on Jalan Mulyorejo Kampus C occurred on January 1, 2000.
In his speech, Prof. Nasir said that the inauguration became very important as a serious attention from the ministry especially in the areas that can encourage the improvement of student quality.
In addition, the inauguration is expected to increase the added value of the role of university to the community, especially on how to solve problems in consumption animal such as in the nail, mouth, and vitamins.
"RSHP is expected not only to pay attention to domestic animals, but also to consumption animals," he said.
"The location is close to Universitas Airlangga Hospital, RSHP is also expected to be able to establish future collaborative research related to diseases that come from animals," he added.
According to Prof. Nasih, the educational facilities improvement for students is the main thing even though there is business service at RSHP UNAIR. Therefore, efforts to improve graduates' quality through supporting facilities is very important. Particularly in the effort to prepare graduates for the industrial revolution 4.0.
"Rapid technological developments also affect many areas of life. For example, there is an E-Health service, "he said.
Prof. Nasih, also said that it also brings challenges for the field of animal health, including RSHP UNAIR. The Rector of UNAIR, also expressed his gratitude to the Minister of Research, Technology and Higher Education especially for his willingness to inaugurate UNAIR facility.
Prof. Nasih explained the existence of RSHP UNAIR is intended to provide educational support facilities to all academic community, whether lecturers, students, or other personnel as an effort to improve the quality of education and research at UNAIR.
"RSHP is a lab for the improvement of academic products," he said.
"RSHP also serves as the support facility of Faculty of Veterinary Medicine (FKH) UNAIR, including a form of UNAIR service to the community, "he added.
Prof. Nasih advised RSHP UNAIR not to focus only in their service. The purpose of research and education must be maintained especially as an effort to promote the field of veterinary medicine in Indonesia. (*)
Author: Feri Fenoria Rifa'i