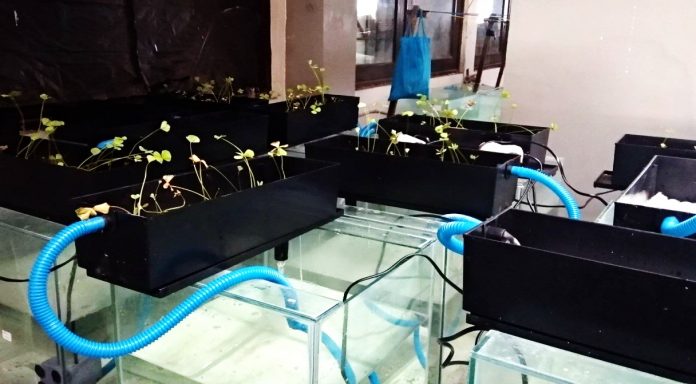 UNAIR NEWS – Three Universitas Airlangga students in their innovative research have found the influence of water clover to reduce ammonia in aquaponic system cultivation, so it can improve fishery production in Indonesia.
The success was made by three students of Aquaculture Universitas Airlangga , Ridhwan Hakim Mahendra, Mirda Tri Aries Chandra and Oktavia Arini Zuhriastuti.
The exacta research (PKM-PE) category supervised by Daruti Dinda Nindarwi, S.Pi., MP, lecturer at the Faculty of Fisheries and Marine Universitas Airlangga, passed the Ministry of Research, Technology and Higher Education (Kemenristekdikti) funding selection in 2018.
Ridhwan Hakim as the leader of the research team, said that aquaculture market is expected to be the main contributor to improvef national fishery production to meet the food need of Indonesian population.
Population growth followed by increasing industrial activity made the field for aquaculture narrower, and farmers change their cultivation system towards super intensive cultivation to meet the existing needs.
One of the most widely used and widely used technologies is the Aquaponic system. This system is a technology that is based on the principle of assimilation of inorganic nitrogen (ammonia, nitrite and nitrate) by microbial communities in the cultivation media which can then be utilized by organisms cultivated as a food source.
Aquaculture activities using aquaponic technology with bioremediation method is a cultivation system by applying high density and utilizing aquaculture waste as an additional feed.
"The commodities that are often used in the aquaponic system are catfish. Why? Because catfish has a high selling price and market demand, but its production cost is relatively low. Moreover, aquaculture activities with this aquaponic system can be done by the middle class community as additional income," added Ridhwan Hakim.
Besides, he added, bioremediation effort to reduce toxins in the ammonia for this Aquaponic system is one way to avoid the effects of accumulated heavy metal toxins that could potentially be transferred to humans who consume them.
Bioremediation is the use of biological agents to neutralize contaminated soil and water into substances harmless to the environment or human health. Biological agents used may be enzymes, microbial cells or plants. One potential plant as a bioremediation agent is water clover.
The PKM-PE team conducted a three month research using catfish and clover water as its object.  The water in the cultivation of catfish contains ammonia that will be absorbed by water clover plants.
The results of the research as told by Ridhwan, the number of clover as many as 40 stems in a medium plant size of 300 cm 2 can absorb ammonia averagely 50%. "So the use of this water clover is effective in reducing ammonia levels in aquaculture using an aquaponic system," he said. (*)
Editor: Bambang Bes