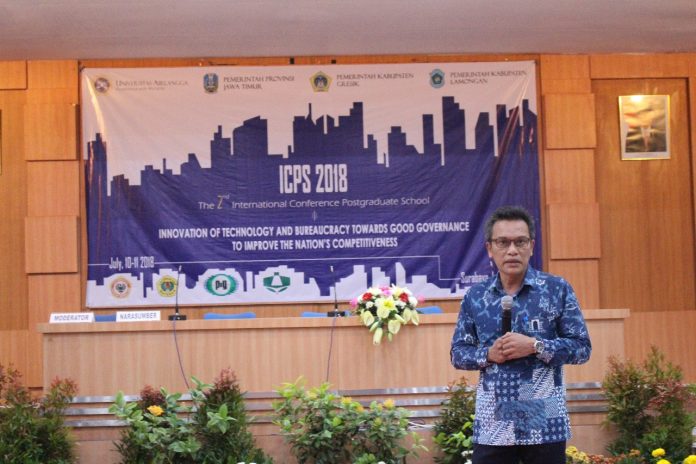 UNAIR NEWS – In order to support the government to realize clean government, Postgraduate School of Universitas Airlangga holds International Conference Postgraduate School. The event was held on Tuesday, July 10 at the Hall of Fadjar Notonegoro Faculty of Economics and Business (FEB) UNAIR.
Dr. Suryani Dyah Astuti, M.Si., as the coordinator of the activity said that the event was attended by East Java Governor Dr. H. Soekarwo, SH, M.Hum., and the Regent of Gresik. Ir. H. Sambari Halim Radianto, ST, M.Sc. In addition, there were also six speakers from Malaysia, Nigeria, Tanzania, Rwanda, and Indonesia.
"There were 300 participants in the event, 274 as presenter and 26 as participants," she added.
Dr. Suryani said that there are five areas discussed by the speakers, life science , police , holt science , econimic , and social science.
Dr. Suryani also added that the  government system is a phenomenon of policy implementation from various organizations. Therefore, on that occasion the discussion was more focused on how the efficiency of the policy is designed and how the effectiveness of the policy is addressed to the community. There is a wide range of policies that will support clean governance through innovation-driven development methods.
"The discussion is focused more on the government because we want to support the government to realize clean government," she added.
Dr. Suryani said that UNAIR with its motto, Excellence with Morality aims to create future generations to become a leader of excellence. Not only excellence in science alone but also in his morality.
"Hopefully the future government will be more advanced and will be cleaner," she added.
In order to develop technology, Dr. Suryani revealed that there is funding for college innovation from the government. The fund has produced an innovation such as dentolizer product for dental therapy.
"The government currently limits the import of medical equipment. So the government is trying to make communities especially in universities to produce innovation works that bring benefits for the community, " she added.
With the event, Dr. Suryani hoped that the students have the motivation to develop science supported by good soft skill, pursuant to the theme, clean technology by developing innovation supported by good soft skill.
Author: M. Najib Rahman
Editor: Nuri Hermawan