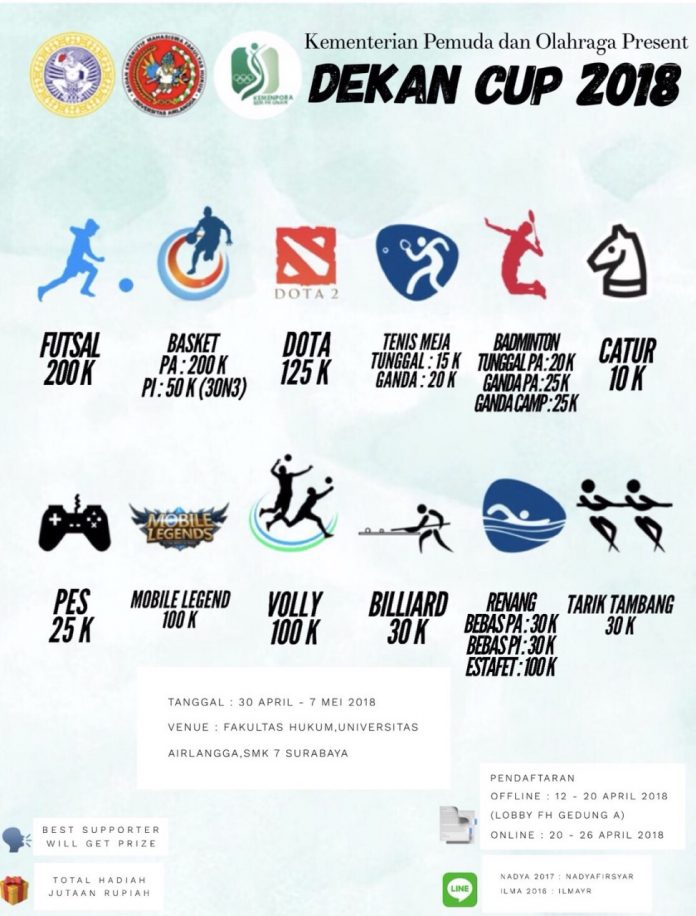 UNAIR NEWS – Dean Cup is one of the work programs (proker) of Ministry of Youth and Sports (Kemenpora) Student Executive Board (BEM) Faculty of Law (FH) Universitas Airlangga (UNAIR). It is said to be the largest Kemenpora program every year.
This year, there will be 12 kinds of sports and games for the competition, futsal, basketball, dota, table tennis, badminton, chess, PES, Mobile Legends, volleyball, billiard, pool and tug of war. They are not much different from last year's.
There are two additions, Mobile Legends  and swimming. In addition, this year, Point Blank competition is omitted.
Velycia Maya as minister of Kemenpora BEM FH UNAIR stated that she hoped this year's Dean Cup can make achievement in the field of sports. In addition, the event can strengthen the fraternity among FH students. The sixth semester student also claimed to make preparations since two weeks ago.
"Last year, I was a staff of the BEM ministry. So, I learned and improved from the past year. We hope the spirit in the field of this sport can be channeled, " she said.
"We can say that it is a relaxing competition. Dean Cup can also strengthen the ties of students because there are some sports that require teamwork such as tug of war, futsal, and basketball, " she added.
As planned, the Dean Cup will be held in two different places. First, in FH. Second, in SMK Negeri 7 Surabaya. Not only competition, Dean Cup also gives reward to the best supporter. In addition to the Dean Cup, other program to follow is "Law Cup".
"For the place, we will hold it in two locations due to the limited facilities and infrastructure in FH, so, we rented a place in SMK 7 for basketball and futsal competition. Starting today, April 12 registration can be done. And, the event will be held from 30 April to 7 May, " she added. (*)
Author: Pradita Desyanti
Editor: Feri Fenoria