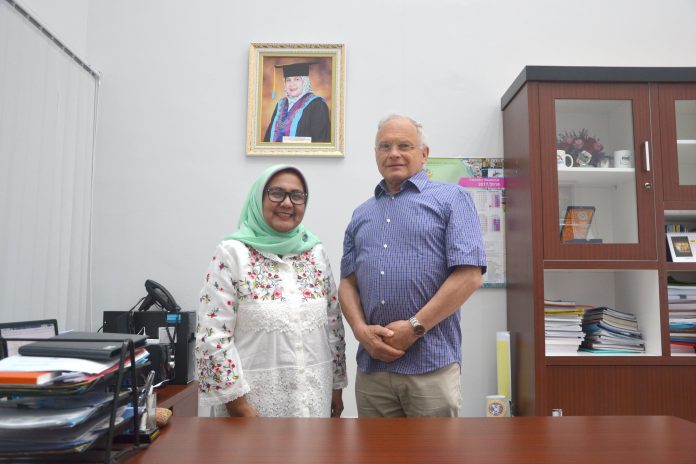 UNAIR NEWS – As an effort to improve the quality of education through the readiness of human resources (HR) and system, Faculty of Fisheries and Marine (FPK) Universitas Airlangga (UNAIR) has established a collaboration with SES (Senior Experten Service) Germany. It is a leading German senior expert assignment organization for volunteers and retired executives.
Collaboration happened with the arrival of food chemist Dr. Ralph Thomann from Germany to FPK. For 21 days, April 7-27, Dr. Ralph will give lectures, do research, and industry visits.
"Since 1983, SES has been helping people around the world in various sectors. There are currently over 12,000 experts from all professional backgrounds. And, since 1983, SES has sent more than 40,000 volunteers in more than 160 countries, " explained Dr. Ralph about SES Germany.
In the collaboration, various efforts to improve education, skills and scholarship were discussed, including the exchanges of experiences related to the variety of problems faced between two countries, Indonesia and Germany (Europe).
Regarding the collaboration, to UNAIR NEWS , Dr. Ralph revealed that he was enthusiastic about FPK and said that Indonesia, has enormous potential.
"In the field of education, I see a lot of young educators (lecturers, ed). They are full of spirits. It is very good for Indonesia in the future. And, I will provide scientific experience as well as encouragement for the common good, "he said.
Head of Fishery Products Industrial Technology (TIHP) FPK UNAIR, Dr. Rr. Juni Triastuti, S.Pi., M.Si., said that the collaboration is an opportunity that must be optimally utilized for lecturers and students.
According to Dr. Rr. Juni, in a laboratory inspection, Dr. Ralph stated that FPK is classified as having extensive facilities. It is quite different from the one in Germany. However, he said, they both have advantages and disadvantages.
"So, this morning, April 12 Ralph saw the laboratory activities in FPK. There are several differences according to him and then, at noon, he gave a public lecture to students on food chemistry, " she explained.
"On the scheduled activities, up to 21 days later, there will be a discussion with stakeholders of the faculty about teaching methods and scholarship, especially on how to convey material to students to be interested and effective, " she added after the guest lecture.
Meanwhile, Dean of FPK UNAIR Prof. Dr. Mirni Lamid drh., MP., added that the collaboration with SES Germany, especially for the presence of experts in mentoring the lecturers, is one of the efforts to develop FPK in the future. In addition, the collaboration is expected to be implemented in the form of real research, both by students and lecturers.
"The internationalization of higher education should be encouraged by all elements. The form, can be through guest lecture and collaboration like this one, " she said. "Clearly, the cooperation that exists, including those still being explored, will continue to be pushed by FPK. And, the result of this collaboration (with SES Germany, ed) is a teaching module from a joint discussion with Dr. Ralph, " she added. (*)
Author: Feri Fenoria
Editor: Nuri Hermawan