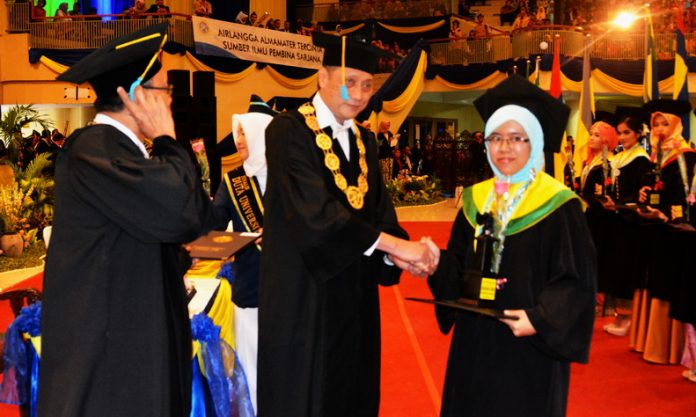 UNAIR NEWS – As a medical student, a tight lecture routines and demand to always master variety of lecture materials, did not make Koyuki Atifa Rahmi discouraged. Alumna of SMAN 3 "Bhawikarsu" Malang actually enjoyed her activities.
Hearing the name Koyuki, many thought that the woman born on December 9, 1997 is a Japanese descendant. But Koyuki is actually Indonesia native, born in Lamongan. She graduated with 3.87 GPA.
"My parents loves that name, so I was named Koyuki," she told unair.news.
At the end of her studies, Koyuki was selected as the best doctoral graduate of FK UNAIR in March 2018 graduation. Since high school she aspired to become a doctor, because she is fond of science, such as Biology. Her fondness was very helpful when she finally studied medicine that has a broad learning aspect.
"For me all the fields of medicine are interesting. But I like physiology most. By studying the science we can know how our body works. All are interrelated and very interesting to learn, " she said.
The avid reader of detective or mystery novel felt that all knowledge and experience during college at FK UNAIR is very useful. It is precious and memorable.
" There is no special method of learning. I only read the material before it is explained by the lecturer in the class, take notes during class, re-read the notes, then do some questions, "added Koyuki.
Koyuki has made a number of achievements such as the second winner of AVSQ Airlangga Medical Scientific Week 2015, first rank of Sub Program I Program S1 Medicine FK UNAIR and ranked 1 Sub Program III S1 Medicine FK UNAIR. (*)
Author: Sefya Hayu Istighfaricha
Editor: Nuri Hermawan, Bes