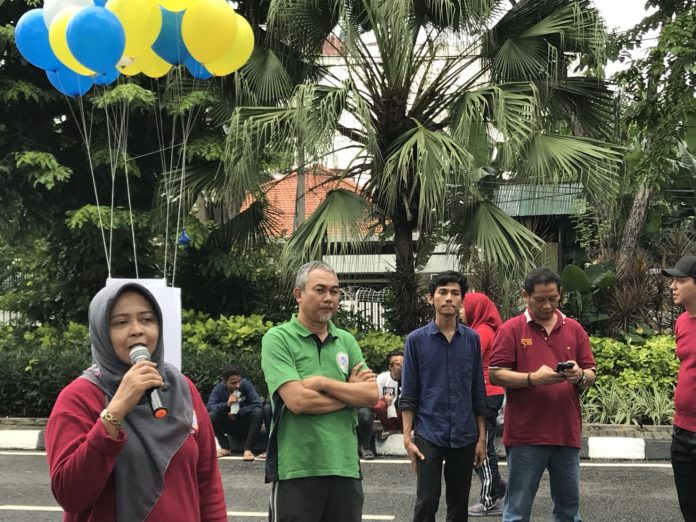 UNAIR NEWS – Connection of alumni to the alma mater is timeless. This is what makes the Department of External Relations (HUBLU) BEM Faculty of Economics and Business (FEB) Universitas Airlangga (UNAIR) held Econo Free Day (EFD), Sunday, March 11 in Java Clinic Darmo Car Free Day (CFD). This routine activity is not only attended by FEB academicians, but FEB alumni members of IKAFE.
Rain did not stop the activity. All the students and alumni mingled into one doing the morning gymnastics together. In fact, visitors of the CFD participate as well.
"EFD is actually a place for gathering FEB citizens, from college students, alumni, to the officials of faculty. In essence, to unite the entire academicians FEB through a fun event , "said Ribka Agustin, one of the event organizers.
After the calisthenics, there was hip hap game, the game was used to know each other by forming a circle. The activity continues with breakfast and rujakan.
Callisthenic activity in Econo Free Day held by BEM FEB UNAIR. Besides students and alumni, it was also followed by the general public in Car Free Day. (Photo: Siti Nur Umami)
EFD event is not only a morning exercise and 'rujakan', but there was also coffee booth and live music . The variety of events creates intimate atmosphere between students and alumni.
On that occasion, students could learn to mix coffee with certain techniques. In addition, this opportunity was also used by students of Islamic Economics Program to sell their Entrepreneurship products (KWU). The presence of EFD proved that students and alumni can synergize, although they have different ages and business.
"Hopefully in the future EFD will make FEB residents to know each other, can exchange experiences with alumni who in fact have a lot of experience in the professional world, through chatting and eating together," said Ribka.
EFD activities ended by signing banners and released ballons. Meanwhile, the Dean of FEB Prof. Dr. Dian Agustia, SE., M.Si., Ak, hoped EFD can be an activity that further strengthens the relationship between students and alumni. She also hoped that the upcoming activities will be better.
"Hopefully in the future, the activity will better and distributed among the students because this is our activity together," said Prof. Dian. (*)
Author: Siti Nur Umami
Editor: Binti Q. Masruroh