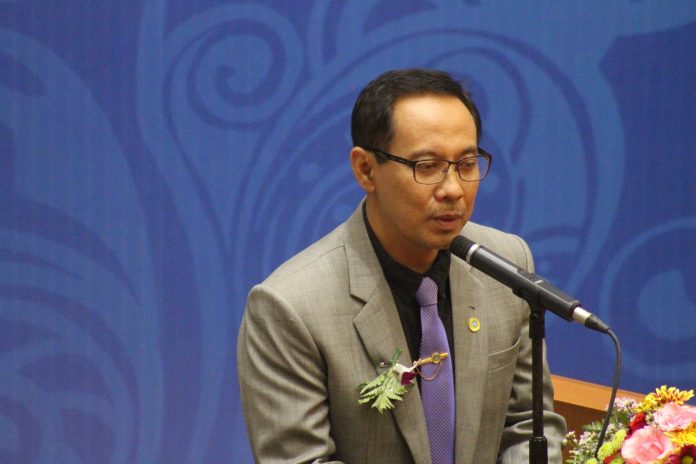 UNAIR NEWS – A female patient is sobbing while pointing to a nurse in front of her. Her voice was saddened with the apology from the nurse. It is the scene in the 52-second viral video about an allegation of abuse to the patient.
The viral case in social media in January happened at a hospital in Surabaya. The female patient felt harassed while in the recovery room after undergoing obstetric surgery on Tuesday, January 23.
The case was also emphasized by the Dean of the Faculty of Nursing (FKp) Universitas Airlangga Prof. Nursalam, S.Kp., M. Nurs., while inaugurating 95 nurses on Tuesday, February 20. He reminded the nurses about the rapid technological developments. It will also affect the challenges of the world of nursing.
The Role of Social Media
The case went viral because of the rapid flow of information in social media. Social media is followed by the rapid pace of technological development which both can be sharp blades equally.
According to Prof. Nursalam, the viral video was the cut version. In fact, he continued, relevant stakeholders have conducted a session of professional ethics committees, Nurse Ethics Council of East Java on Saturday, February 3. The result, showed that the nurse did not violate the code of ethics.
"You have to be careful because social media can be a justification. How easy everyone can record and spread anything,especially about how nurses act in handling a case, "he said. "For example, whether the person hot-headed or not," he added.
Nurse Challenges
In addition, Prof. Nursalam conveyed the internal challenges that nurses must face in the future. They must put forward the values ​​of human rights as well as ethics, including maintaining readiness to face of MEA (Asian Economic Community).
" Self-upgrading should be done continuously. For example, strengthening English mastery skills, "he said.
Prof. Nursalam explained, in the millenial era like today, there are five global competencies that must be controlled by a nurse, code of ethics, professionalism, leadership and management, research and personal development .
"Do not let us violate the ethics. Whether it is right or wrong, we must be careful because as our law today is the social media. But it must be clear that you value the rights of patients, "he said.
Differentiating patients should be avoided. In addition, continued Prof. Nursalam, nurses must have the ability to lead and perform good management. Furthermore, nurses of the global era must also have the ability to conduct research that is oriented in the present case.
"The last is the effort to continue to develop self-ability. Must be active in activity. Take advantage of the era of MEA as an opportunity for a career in the global world, "he said. (*)
Author: Feri Fenoria
Editor: Binti Q. Masruroh