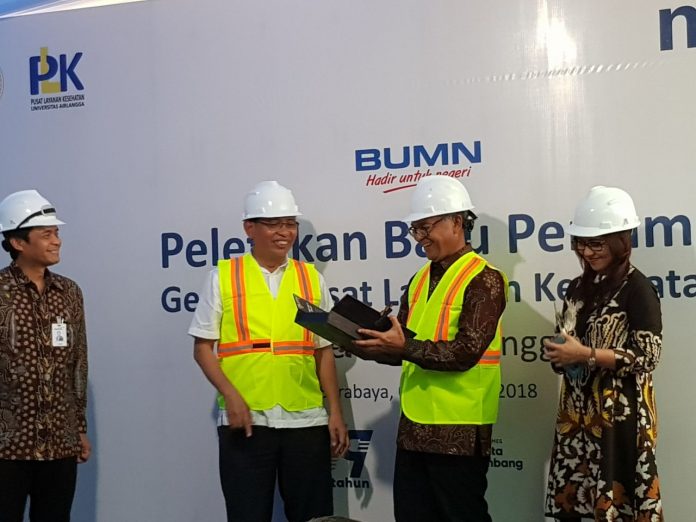 UNAIR NEWS – To improve the health service to the community, Medical Service Center (PLK) of Universitas Airlangga continues to make improvements. Improvement was done by improving the infrastructure. This time, PLK UNAIR will build a new building and it was marked by the groundbreaking event on Friday, February 9.
In starting the construction of new building in the area of ​​Campus B UNAIR, PLK UNAIR cooperates with Bank Mandiri as partners. Attending in the event was Director of Operations Bank Mandiri Ogi Prastomiyono. In his speech, he said that the construction of PLK UNAIR building is a form of corporate social responsibility in providing services to the community.
"This is a form of our commitment to improve awareness to the community. In addition, this assistance also as a form of our cooperation and UNAIR that has been going well for long, "he explained.
In response, UNAIR Rector Prof. Dr. Moh. Nasih, SE., MT., Ak., CMA., expressed his gratitude for the commitment of Bank Mandiri as UNAIR's trusted partner. He also hoped that the cooperation between Bank Mandiri and UNAIR can provide benefits to both parties.
"Because Bank Mandiri is the strongest bank partner in UNAIR. I hope the commitment to build UNAIR together can also be done and developed to various lines, "he explained.
Interviewed after the event, Head of PLK UNAIR Dr. Ernawati, drg., M. Kes hoped that the construction process will run smoothly as scheduled. Although the development process will continue to run, she asserted that PLK UNAIR will continue to provide health services to the community.
"During the development period, PLK UNAIR will provide its service as usual," she said.
Author: Suko Widodo
Editor: Nuri Hermawan