UNAIR NEWS – For people living in peripheral, remote areas, health is one of the issues that require special attention. Realizing that, the alumni of Faculty of Dental Medicine Universitas Airlangga in cooperation with the Navy through the Marine Corps held a social service on dental and oral health.
Bima, West Nusa Tenggara (NTB), was chosen to be the place for the social service, at the Mangge Maci Stadium on Monday, January 29.
The activity was a form of community service as well as evidence of the role of alumni FKG UNAIR on health problems in the community. In addition, the social service was held in the framework of Advanced Unit Exercise (LSL) III DA / LA TW. IV Ta. 2018 TNI-AL.
"Based on the data, there were 654 patients who followed this health social service," said alumnus of FKG UNAIR Marine Lieutenant Colonel (K) drg. Bachtiar Effendi, Sp.KG., Mtr. Hanla, who is also the head of social service.
Bachtiar added, there were 547 patients requesting treatment, 107 of needed dental treatment.  There were 35 children who followed mass circumcision event.
"There were also 648 elementary school children getting dental education," he added.
In the social service, the team sent several general practitioners and specialists, both from UNAIR and the Navy. In details, there were six dental specialist and members of the IAII (Dentist Alumni Association) UNAIR and two doctors from the Marine Corps of the Navy.
Dental specialist from IKAGI UNAIR, among others, Dr. Nina Nilawati, drg., Sp.Perio (alumna 1981); drg. Nungki Nawangsari, Sp.KG (alumna 1989); drg. Umi Hanik, M.Kes (alumna 1981); drg. Dwi Setianingtyas, Sp.PM; drg. Yuni Ardhie (alumna 1985); drg. Dwi Endah Soesiloningsih (alumna 1988); drg. Siti Aisyah (alumna 1971); and drg. Fika Rah Ayu Sp.BM (alumna 2016). Furthermore, coming from the Marine Corps of the Navy were Lieutenant Colonel (K) drg. Bachtiar Effendi, Sp.KG., Mtr. Hanla (alumnus 1991).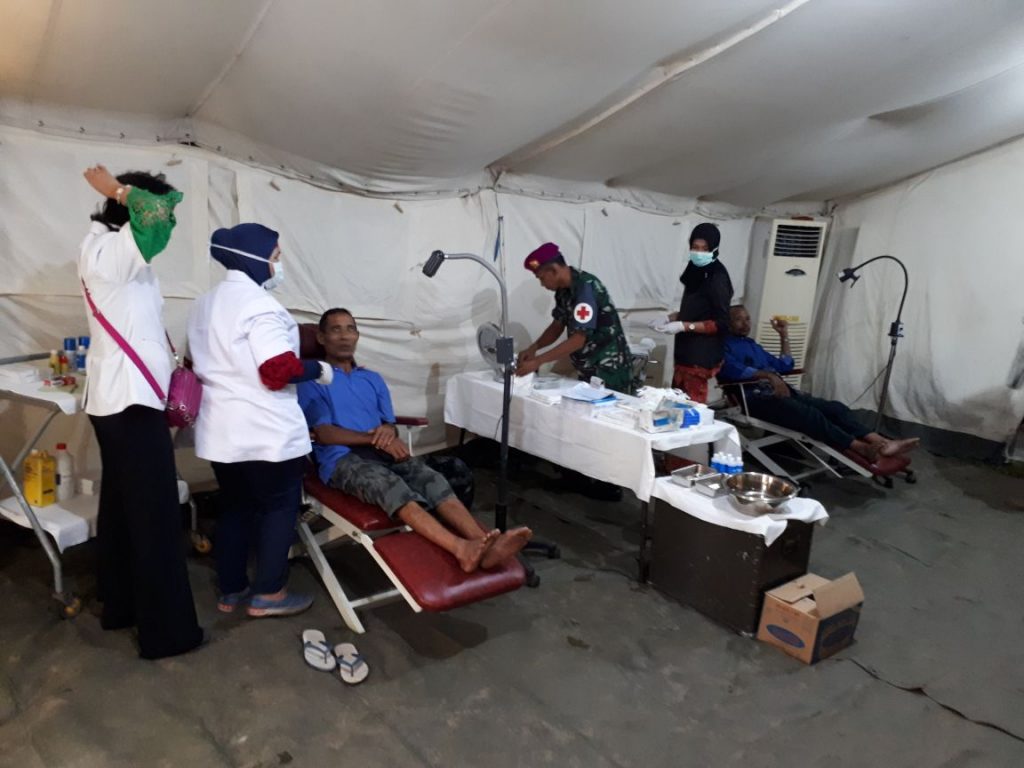 In addition, five puskesmas from Kota Bima also provided assistance such as East Rasanae Public Health Center, Pena Nae Public Health Center, Punda Public Health Center, Asah Kota Public Health Center, and Paruga Public Health Center. Each puskesmas sent a general practitioner, three nurses, and a pharmacist.
"Alumni of FKG UNAIR are always solid and they're everywhere. I invited other FKG UNAIR alumni to take advantage of various activities that have been and will be held by IKAGI board. Besides as a forum to strengthen relationship, it aims to present alumni FKG UNAIR everywhere, "explained Head of IKAGI UNAIR First Admiral TNI drg. Nora Lelyana, MH.Kes related to the event. (*)
Author: Gilang Rasuna
Editor: Feri Fenoria