UNAIR NEWS – Facing the target of world class university (WCU) in 2020, Universitas Airlangga continues to make preparation programs, both physical and non-physical. One of them is to prepare the best basic student facilities in supporting the education process such as providing a representative and comfortable library with complete collection of books.
The new UNAIR Campus C Library was just inaugurated by the Vice Rector I Prof. Djoko Santoso, dr., Sp.PD-KGH., Ph.D., FINASIM on Friday, January 19. The Secretary of University Drs. Koko Srimulyo, M.Si., and Head of UNAIR Library Prof. Dr. I Made Narsa, SE., M.Si., Ak. CA were also present.
The ribbon-cutting was witnessed by the library staff and the student representatives as it marked the opening of the new facility. Previously, Campus C Library was in UNAIR management office building, now it has its own building in the south of the former building.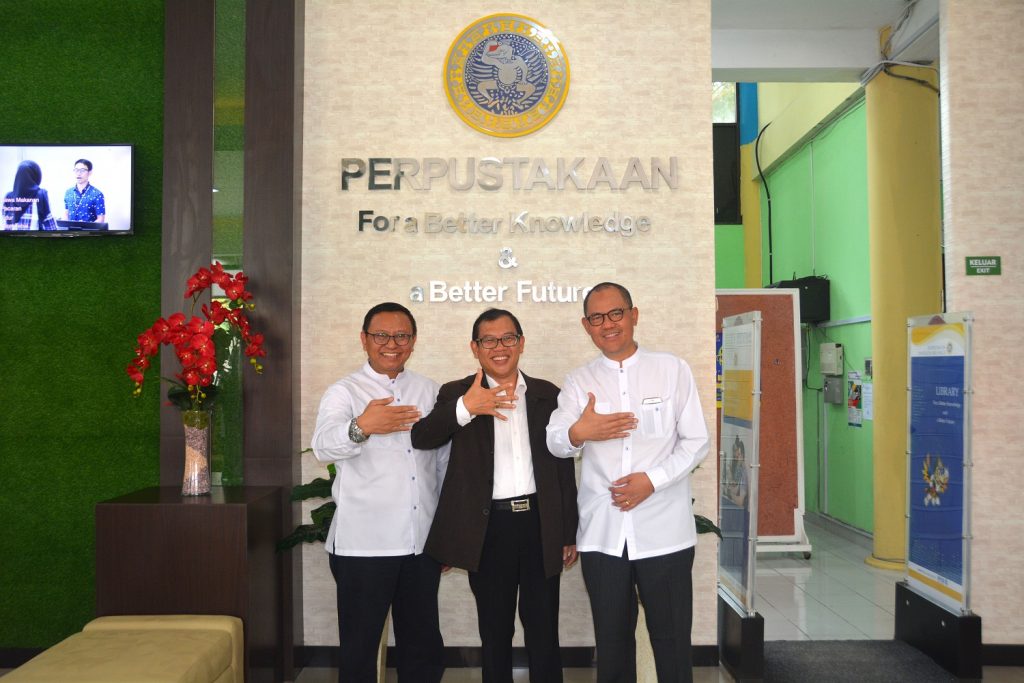 "The new library has two floors. The 1st floor contains a collection of books, both general and special collections, as well as scientific papers. Furthermore, the 2nd floor is intended for discussion and reading rooms. There is also a special room to search e-books, " Prof. I Made Narsa told UNAIR NEWS .
He also said that UNAIR students should use the existing education facilities, libraries well.  Because, in the digital era like today, UNAIR Library is ranked third on libraries with largest collections of e-books throughout Indonesia.
"We (UNAIR, Red) are under UI and UGM. This is what must be utilized, "he said.
In terms of book collections, Prof. I Made Narsa said that UNAIR Library collection reaches 200,000 books. There are 10,000 e-books and there are millions of journals. In all three campuses of UNAIR, Campus A, B, and C.
"For the operational hours, UNAIR Library opens until 22:00 from Monday to Friday. Saturday is also open, "he said.
Drs. Koko advised the students to get closer to the books. There are many things students can get from books.
"Being ordinary people does not mean that we cannot be anything. With books, anyone can be someone great, "he said.
At the end, Prof. Djoko said that the inauguration was part of UNAIR's commitment in improving the quality of the academic community, especially the students so the graduates can practice Higher Education Tri Dharma well.
"This is also an effort to improve international recognition on UNAIR with adequate facilities," he said.
Author: Feri Fenoria
Editor: Binti Q. Masruroh