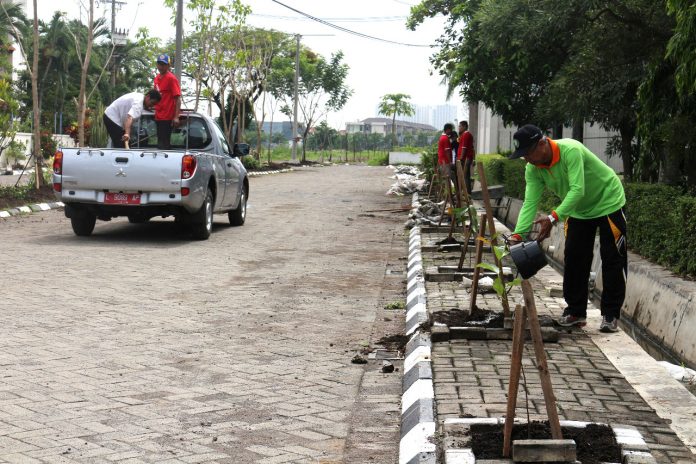 UNAIR NEWS – After conducting morning gymnastics, all staffs of the Directorate of Infrastructure and Environment (SPL) Universitas Airlangga  rushed to one of the main streets of campus C UNAIR in front of the Faculty of Nursing (FKp) for reforestation. There were more than 200 jackfruit trees planted along the streets in front of FKp until the Institute of Tropical Diseases (LPT).
Regarding that, Mulyono, SKM, M.Kes as head of Sub Directorate of Health and Safety (K3) stated that his unit planted hundreds of jackfruit trees on the road barrier, including various ornamental plants.
"With diverse plants, hopefully they will beautify UNAIR," he said. "Well, with the jackfruit trees, the streets in the area of ​​FKp and women dormitory can be shadier," he added.
Regarding various breakthrough of reforestation in the campus area, Mulyono stated that it is an effort to improve UNAIR's ranking on the concept of  environmentally friendly green campus, in accordance with UI GreenMetric criteria.
"Last year our ranking in UI GreenMetric has improved greatly. Hopefully, with this green effort, our ranking can continue to improve, "he said.
In the future, added Mulyono, the ditch next to the road will be closed and made into pedestrian. In addition, the green efforts will continue to a new road linking to the Faculty of Veterinary Medicine (FKH), the Faculty of Fisheries and Marine Affairs (FPK), and the men dormitory.
"So, next to the pavement where we planted this jackfruit tree, we will make pedestrian. Let the pedestrian comfortable and shady, " he explained.
At the end, Mulyono admitted that the jackfruit tree was chosen because of its rapid growth. In addition, the jackfruit tree is leafy and shady plants.
"The jackfruit tree is also good and the tree can bear fruit. So, the fruit can be used later, "said Mulyono after the tree planting on Friday, January 12.
Author: Nuri Hermawan
Editor: Feri Fenoria