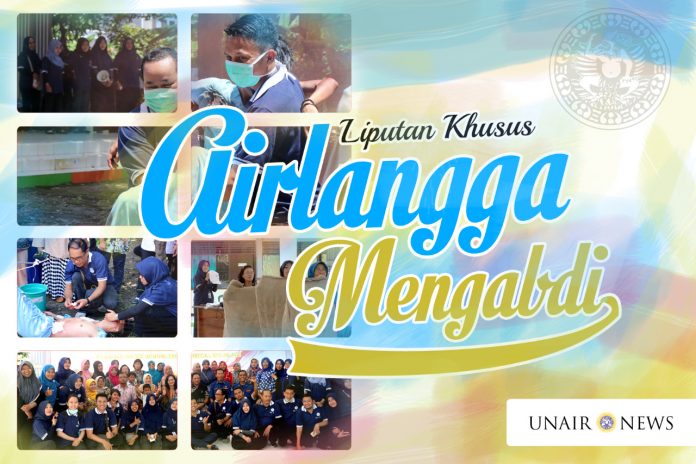 UNAIR NEWS – Starting from anxiety at the sight of the lacking reading interest in today's society, Yunaz Ali Akbar Karaman, student of History Science Program, Faculty of Humanities (FIB), Universitas Airlangga tries to solve the problem by initiating the reading movement through mobile library.
Yunaz chose to use the bike because it has better mobility and close to the community, even young people in the coffee shop (warkop). In addition, at this time he also focuses on small children by inviting them to read and write many things about the world of children distributed for free.
"I tried to go directly to people from one place to another," said Yunaz.
To UNAIR NEWS , the student born in Malang, April 24, 1997, said that the mobile library is called Onthel Prasojo Library started in August 2017. For its reach, Yunaz said that the scope is still within Surabaya by traveling from warkop to warkop and Car Free Day at Darmo area. But last November, the mobile library had reached the Mojokerto area.
"Later, in the long run I will go further while touring and inviting people to read," he explained.
To do the noble program, Yunaz also invited some volunteers. According to him, the enthusiasm of volunteers is very high, they also use bicycles with a box made of wood to carry books. In addition, there are also volunteers who publish these activities through social media.
Furthermore, regarding the content of the reading, Yunaz and the team do not only provide books on history, mass action, magazines, and encyclopedias, but also their own works, such as Cerita Rakyat dan Budaya Tradisi Nusantara, Berbagai Cahaya, Disastra, and Janji Seekor Tikus dan Semut.
"Most of our books are still from private property and donations from the public," he explained.
In initiating the reading movement amidst the lack of readership interest, Yunaz has many obstacles especially, the constraints coming from yourself, when the spirit has weakened and leads to failure.
"Hopefully in the future, people will read more and more new ideas will emerge to offer solution for this nation's problem or the idea of ​​the community," hoped the Head of Student Executive Board (BEM) FIB UNAIR.
Author: Siti Nur Umami
Editor: Nuri Hermawan