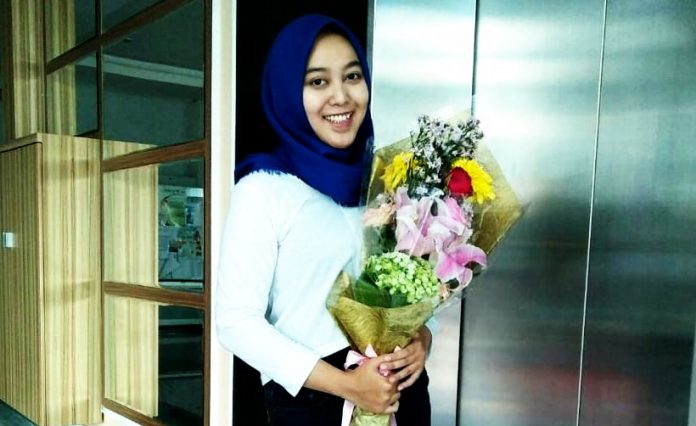 UNAIR NEWS – After being graduated in Universitas Airlangga Faculty of Vocational Studies, Rachmawati Utami, the best graduate of this faculty planned to continue to bachelor's degree through the transfer program and gained work experience.
"I want to work first to seek knowledge and experience as much as possible. Then, if there is a chance, Insya Allah I will continue to bachelor's degree, "said Rachma, the best graduate with 3.98.
She admitted there are no specific tips to become the best graduate. She only maximizes her time and ability during lectures by focusing on her lecturer explanations.
"When the lecturer explains, I imagine what it means. I quickly understand and remember it. I rarely study at home because my house is quite far from the campus. So coming home from college I usually break or just do urgent tasks, " said Rachma who lives in West Surabaya.
At weekends, she usually uses her time to do all his college assignments from the past week. If she does not feel tired, the graduate of Taxation 3 year vocational program continue reading books and regulations about taxation. "I do it continuously, although little by little," she said to Warta Unair.
As her final assignment, Rachma wrote about the tax amnesty policy applied by the government from 2016 to early 2017. In addition to the new topic, Rachma wants to know more about the issue of tax amnesty regulation.
"I got input during my field study at the Tax Office Pratama Surabaya Gubeng. I am so interested in discussing the issue of taxation in Indonesia. Furthermore, the community are quite enthusiastic about the tax amnesty program, "she added. (*)
Author: Defrina Sukma S
Editor: Binti Q Masruroh.