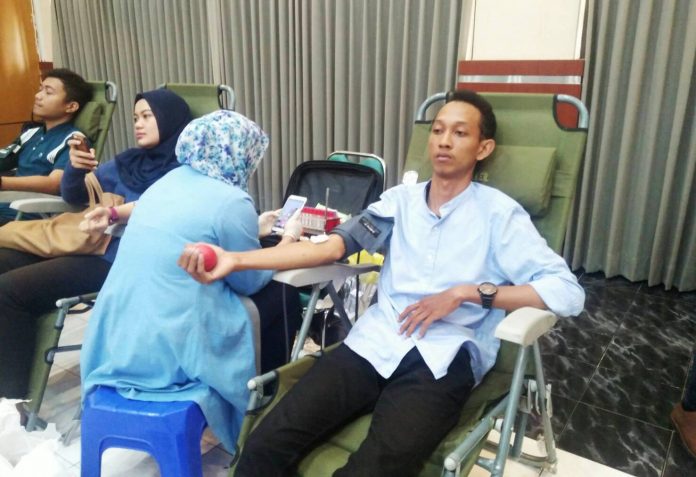 UNAIR NEWS – Indonesian Red Cross (PMI) currently needs one million bags of blood. It motivates Community Service Department of Student Executive Board Faculty of Economics and Business Universitas Airlangga  to donate blood, Wednesday, September 20, in  Fajar Notonegoro Hall. This annual event was called "Share Blood, Share Life, Share Smile".
Opened from 08.00 to 14.00, more than 200 participants enthusiastic academicians donated their blood. Not only donating their blood, they also did a health check from Rumah Zakat.
Not all participants can donate their blood. They have to meet some requirements, such as being healthy, minimum weight 50 kilogram to get 350 cc of blood, normal blood pressure, hemoglobin levels more than 12.5 grams per deciliter, not alcoholic, no tattoos , has no history of severe diseases, and not pregnant.
Furthermore, blood donors have various benefits for the health of the body, such as protecting the heart, reduce the risk of cancer, prevent premature aging, help blood circulation, lower cholesterol.
"This activity is one of the programs of the Department of Community Service, with a goal to cultivate a sense of care and bring awareness to have concern with the environment," explained Reinthard Xaverius, head of the committee.
There was a performance of acoustic group Macoustic from Management student so they participants did not feel bored.
"I like helping others, even with only a bag of blood. This is not the first time for me to donate blood, I last did it in Senior High School (SMA), so 4 times I have donated blood, "said Linda Ayu, undergraduate of Development Economics, one of blood donors.
The donors get various gifts from PMI and the committee as a form of appreciation for caring for others.
Author: Siti Nur Umami
Editor: Defrina Sukma S