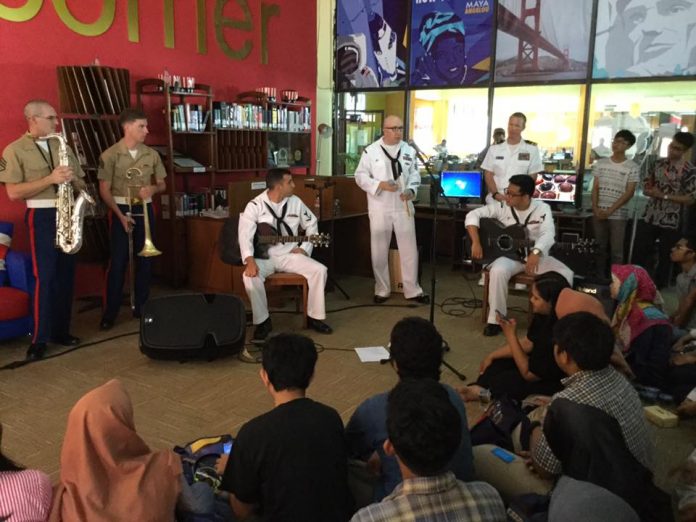 UNAIR NEWS – Before performing in presence of the academic community in front of the Universitas Airlangga Management Office on Wednesday, September13,  the 7 th Fleet Band Orient Express conducted a meeting with students and high school students.
No doubt, the arrival of United States Navy members invited curiosity of the people. The gathering took place at the American Corner, Campus Library B UNAIR on the same day they held a concert performance. At the gathering event, beside performing, the band members also told about their activities in Indonesia.
"In addition to introducing two different cultures, this event is aimed to strengthen the relationship between the two countries," said Agung B. Kristiawan, public relations staff and manager of American Corner UNAIR.
Beside UNAIR students, this gathering was also attended by high school students in Surabaya. They seemed enthusiastic about asking how the bands were formed, their impressions of Indonesia, to the food they liked.
The jazz band 7 th Fleet Band Orient Express came to UNAIR for the first time. In addition to holding meetings and music performances at UNAIR, they also visited the SMA N 5 Surabaya to give support on the greenery project.
The band consists of LT Brian S. Chaplow, MUCS (IW) Luis O. Lebrón, Justin Glenn MU1, and MUC Robert Booker inspired patriotism, raising the morale and awareness of the Navy and public relations, and preserving the nation's musical heritage.
Author: Binti Q. Masruroh
Editor: Defrina Sukma S