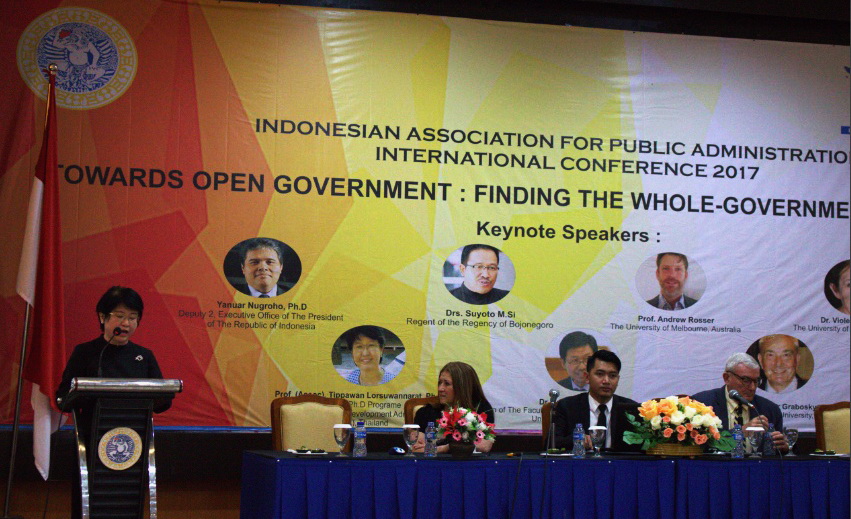 UNAIR NEWS – International academics have gathered and discussed Open Government. They were Yanuar Nugraha Deputy II Executive Presidential Office of Indonesia, Ph.D., Tippawan Lorsuwannarat from Thailand, Ph.D. Violeta Schubert of University of Melbourne Australia, and Prof. Peter Grabosky from Australian National University (ANU).
They discussed about Open Government in an international conference held by Department of State Administration, Faculty of Social and Political Sciences (FISIP) of Universitas Airlangga, in cooperation with the Indonesian Association for Public Administration (IAPA). The theme of this annual conference was " Towards Open Government: Finding the Whole Government Approach" .
In his presentation, Prof. Peter Grabosky provided input regarding the importance of limit to data and information to be released by the State and utilized by the wider community.
"The existence of transparency does not mean that the government should release everything. Why? Because it also relates to the state security. It is impossible to release certain important data related to the security of the country. It is threatening, "he said.
According to him, the data that can be published is the one which can be reused by the community, processed into software , for example the emergence of the Go-Jek transport service application that can actually improve the economy of the community.
"There must be certain limitation. It seems Indonesia is still gray about it, "Prof. Peter said.
Meanwhile, in an interview with the press, Agie Nugroho Soegiono, young lecturer of Department of State Administration FISIP UNAIR said that Indonesian government is making significant efforts towards Open government. Currently, the government is in the process of drafting regulations related to Satu Data Indonesia , an initiative of Presidential Office to improve the utilization of government data. This effort is made considering the government does not yet have a specific definition of  'data'.
"Public information disclosure is related to data information that has been processed, while we ourselves do not have a definition in accordance with the law. As a result, when people ask for information related to the data in the government, it comes in many forms. Currently the government is heading that way, "said the alumnus of Edinburgh University Master's program.
UNAIR Rector Prof. Dr. Moh Nasih, SE., MT., Ak., CMA said that  government managers are not capable enough to develop ideas. There should be a section that works to develop ideas, so that the motto "Work, Work, Work" can run optimally.
"This is part of the positive contribution of public administration science. Open government is a must. Hopefully the results of this conference can contribute ideas that will benefit the nation and state, " he said.
As President of IAPA, Eko Prasojo, said that theme of this conference is very suitable for the sustainability of public information disclosure in Indonesia.
"There are 89 papers in this conference to be discussed. The results of this conference will not only be disseminated in the academic community, but will also be used for the government, "said Eko Prasojo. (*)
Author: Binti Q. Masruroh
Editor: Bambang Bes