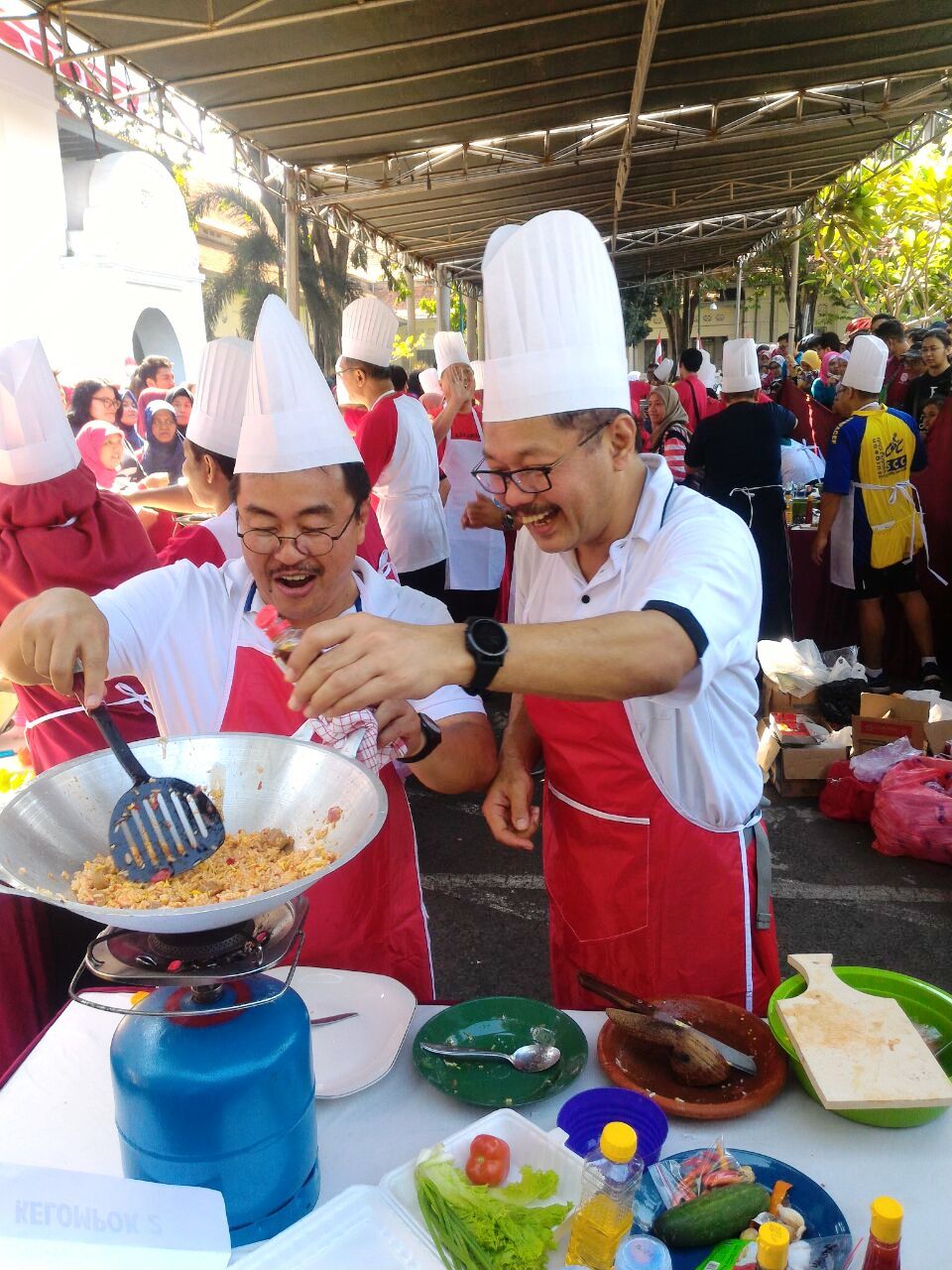 UNAIR NEWS – What happens when doctors who usually give injections suddenly have to participate in a cooking contest? It must be interesting. Some were talented and some burnt their rice.
To celebrate 72nd anniversary of Indonesian Independence, Faculty of Medicine, Universitas Airlangga held many events, from a healthy walk, fun cycling, blood donation to mass circumcision. In particular, the committee also held a cooking competition of fried rice participated by FK doctors. This contest successfully attracted the attention.
The contest took place in the yard of FK UNAIR, Sunday, August 27. Without awkwardness, dozens of doctors from the high ranks of faculty and departments FK UNAIR-RSUD Dr. Soetomo Surabaya showcased their skill at cooking.
Wearing an apron complete with a white hat, all participants looked like reliable cooks. In the competition, each team made of two people was challenged to cook as delicious as it is beautiful in just 30 minutes.
During the contest, the audience laughed at the action of the participants. Moreover, when seeing the doctors in action moved the spatula on the frying pan. Cooking fried rice contest could make the heart of participants beat faster.
Previously, the committee has prepared all the ingredients and utensils, ranging from stoves, fryers and spices on the table. As the contest started, crowded spectators surrounding the arena began to cheer and yell. The host also kept making jokes.
"This Sunday all doctors practices are off, right, because all of them are gathering here to cook fried rice," said the host.
Watching the male doctors cooking, invited the laughter of the audience. There were participants talented chopping the chili peppers. Some were hesitant to mix spices. Some of them looked relaxed, others looked hasty.
In fact, when they put white rice into the pan, some of them put in lots of salt and margarine. Some also lit the stove fire too big.
The panic of participants began to subside when some of them had finished cooking and began decorating the presentation. In this competition, apparently fried rice made by Dean FK UNAIR Prof. Dr. Soetojo, dr., Sp.U (K) and Dr. Sulis Bayu Sentono, dr., Sp.Ort was finished first.
The achievement of Soetojo's team spontaneously received praise from the audience.
"Well, the dean is the fastest, yes, at cooking. Extraordinary. He must have been really experienced, right Prof ?, " asked the host of the show.
"Fast but not necessarily delicious," said one of the audience followed with laughter of other audiences.
In this competition, each team is also required to name their fried rice dish. Soetojo's name his team's dish 'Nasi Goreng Khusus 17-an Rasa Indonesia'. While his rival team, Vice Dean II Prof. Dr. Dr. Budi Santoso, dr., Sp.OG (K) and Dr. Joni name the dish 'Nasi Goreng Merdeka'.
The other participants were equally creative. Some name their dish 'Nasi Goreng Perjuangan'. The reason may be because they struggle to cook the delicious fried rice.
The committee set the assessment on several aspects. In addition to taste, other rating criteria are cleanliness, appearance, and speed.
Despite being the fastest participant in cooking fried rice, Soetojo's team did not win. However, the number one figure in FK showed his sportsmanship. For Soetojo, he had cooked a lot during his studies.
"Once when I was a student I often cook fried rice, so I 'm not surprised if I was asked to cook now," he said.
Budi and Joni also had similar experience. As men, independence has been formed since they stayed in a boarding house. The reason is classic. In order to be frugal, they will have to learn to cook themselves.
The festivity of 72nd anniversary of Independence was in the air as hundreds of people also joined fun cycling and healthy calisthenics. The event was followed by hundreds of FK employees and students, as well as FK colleagues.
Author: Sefya H. Istighfarica
Editor: Defrina Sukma S