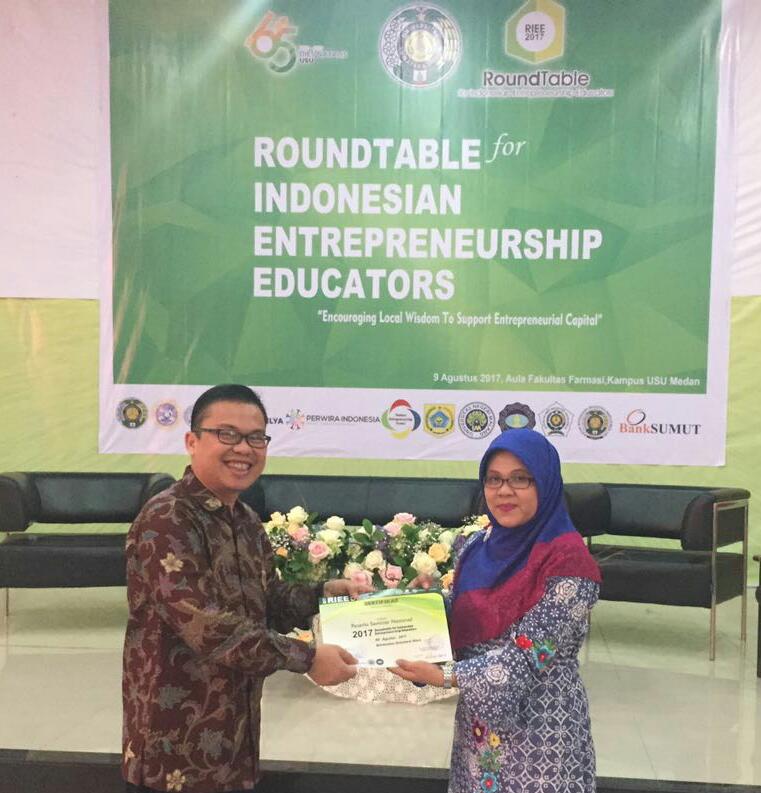 UNAIR NEWS – Universitas Airlangga lecturers always make achievements. This time, an encouraging news came from the Department of Management Faculty of Economics and Business (FEB).
One of the lecturers, Dr. Tri Siwi Agustina won the Best Paper in National Seminar and Call for Paper – Roundtable Indonesia Entrepreneur Educators (RIEE) 2017. The event was organized by the Association of Indonesian Entrepreneurship Educator Association (Perwira). This time, RIEE was held by Manajement Master program, Universitas Sumatera Utara, Medan, on August 9, 2017.
In the event, there are at least 88 papers, representing 15 universities, from 7 cities in Indonesia. As planned, a similar event will be held in August 2018 at Faculty of Economics and Business, Syiah Kuala Banda Aceh University.
RIEE is an annual event of Entrepreneurship educators from all over Indonesia. The purpose of this event is to share information and exchange experiences about Entrepreneurship teaching.
RIEE is also a mean for researchers on entrepreneurship learning, entrepreneurship in general, and small business, to share research results through Call for Paper and Perwira scientific journal.
RIEE was initiated by Prasetya Mulya and Management Department FEB UNAIR.  RIEE is entering the fifth year and is still open for entrepreneurship educators to join.
The woman addressed as Siwi presented a paper entitled Unique Women's Role as "Garwo (Sigaraning Nyowo)" in Accompanying Husband Leading Family Business in Javanese Married Couple. In Javanese society, wife is also called Garwo or Sigaraning Nyowo, which can be interpreted as soul mate.
The paper reviews the various roles of women as wives who support husbands leading the family business. "Why is it interesting to study? Because the contribution of a wife in a family business success is often out of the attention, "explained Dr. Siwi.
In fact, he added, behind the success of the husband, there must be a big role of his wife. Well, the paper was to review the role of wife in accompanying the husband in running a family business.
The role of the wife for the husband who runs the family business is very diverse. However, in the Javanese couple, it was revealed that the wife had a detailed and comprehensive contribution.
Starting from preparing their children to be the successor of business batons, for example by choosing a school to give understanding to the child to continue the family business, to create a harmonious atmosphere with employees and motivate employees to participate. The wife is also an advisor to husband, business partners, and involved in the managerial family business. This is reasonable, because after all, wives assume that the success of the business will bring prosperity to their families. (*)
Author: Rio F. Rachman