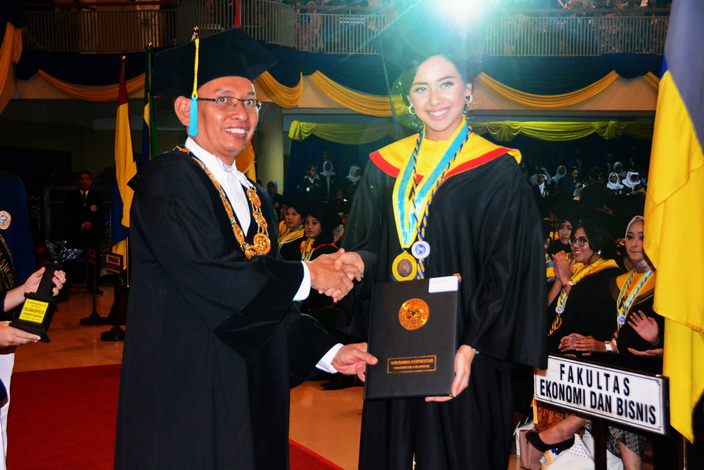 UNAIR NEWS – Elvira Devinamira was awarded Outstanding graduate of Universitas Airlangga  in July 2017. Her success was an accumulation of achievements she achieved as a Law Student since 2010.
Elvira was named an alumna along with 1,141 other graduates by UNAIR Rector on Saturday (15/7). She cannot hide her smile of happiness.
"The day has finally come . This is the gonna be the start of the new chapter in my life," said the graduate of Faculty of Law.
Coming back to Indonesia, she became very popular and got busier. Since she became Puteri Indonesia 2014, this elegant girl chose to take a leave from her study for two years and moved to Jakarta. However, completing the undergraduate degree is a must.
"In our family, the rules of education are important. Mama always pushed me to finish undergraduate degree, although later will return to work, " said the law graduate after the graduation ceremony at Airlangga Convention Center.
Since 2016, the woman born on June 28, 1993 has gone back and forth Jakarta-Surabaya to finish college and undergone her routine as an artist.
"Almost twice a week, I took the first flight for the morning class. It feels like I have a lot to learn about the importance of persistence and determination, "Elvira said.
However, this woman was able to prove that her desire to complete the study was greater than the obstacles she had to face.
"People say, getting two things we want is impossible. But that's not for me. That desire can be realized when we are persistent and determined to get it, " said the woman who loves to travel and plays the piano.
A memorable experience
Elvira had interesting experience during her study at UNAIR. She was active in the Association Law Student in Asia (ALSA). In 2012, he managed to follow the Harvard National Model United Nations at Harvard University, United States.
"The visit was my first visit to the United States and Harvard University," Elvira told UNAIR News .
Sitting next to Elvira, Rector of UNAIR Prof. Dr. Mochammad Nasih was also pleased with her graduation.
"As an outstanding student, we should be proud of Elvira officially became an alumna of UNAIR. Hopefully UNAIR can continue to develop excellent individuals," he hoped.
Furthermore, the Professor of Faculty of Economics and Business explained that education is an important factor to develop society. According to him, the quality of the mind improves the value of someone.
"I hope in the future Elvira can continue to excel and make proud of family and nation. Fame should not be used for negative things, " said UNAIR Rector.
Author: Helmy Rafsanjani
Editor: Defrina Sukma S