UNAIR NEWS – In 2016, Indonesia is one of the largest producers of seaweed in the world. One type of seaweed with great potential to develop is Kappaphycus alvarezii . The success of the farming is determined by the planting period adjusted to the season and weather.
Students of the Faculty of Fisheries and Marine (FPK) Universitas Airlangga, Andita Dwi Prastya (2014), Shobrina Silmi Qori Tartila (2013), Yossy Kartikasari (2014), Ade Irmalia Harifa (2014), Aldo Lovely Arief Suyoso (2014), have initiated an innovation in the form Seaweed Farming Calendar Guidelines based on android.
This application can now be downloaded for free at Google PlayStore with link: https://play.google.com/store/apps/details?id=com.ailynx.pekatala&hl=in
Under the guidance of the lecturer , Annur Ahadi Abdillah, S.Pi., M.Sc., their creativity was conveyed in the proposal of Invention Student Creativity Program (PKM) entitled "Guidelines for Seaweed-Farming Calendar Based on Android App (PEKA TALA) ".
This PKM-KC proposal has successfully passed the Dikti assessment and was entitled to obtain developmental grant in 2016-2017 PKM program from Ministry of Research, Technology and Higher Education (Kemenristekdikti).
Explained by Andita Dwi Prastya, as head of the PKM-KC team, it refers to the results of written and secondary data research concerning the season, weather, and water quality conditions suitable for seaweed farming.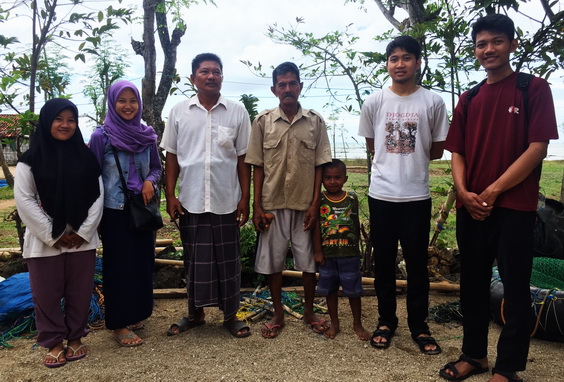 PEKA TALA is packaged in prototype form of android app, making it easier to reach and use by society in general, specially farmers or cultivators of seaweed in determining the time of planting the appropriate seaweed.
"We designed a prototype with a simple concept and as efficient as possible, and we hope this innovation to be useful for many people," said Andita.
So with the application of seaweed farming guidelines, the farmers can determine when is the appropriate and best time to plant seaweed, so as to increase the production of seaweed, thus improving the income of seaweed farmers.
It also can support the existence of Indonesia as the largest producer of seaweed in the world. "Let 's increase the production of Indonesian seaweed," said Andita. (*)
Editor: Bambang Bes
This post is also available in: Indonesian