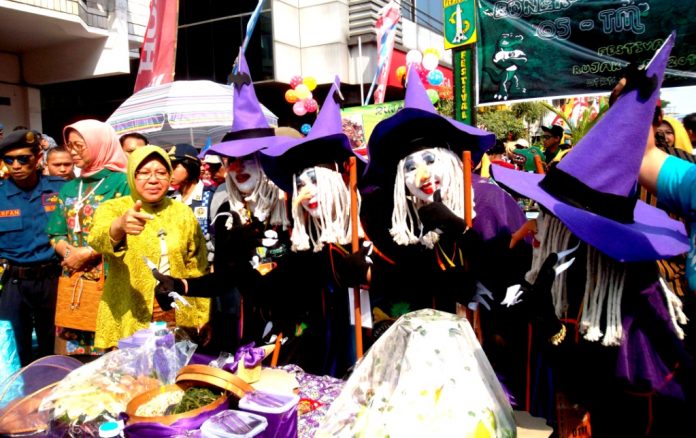 UNAIR NEWS – Faculty of Psychology team succeeded in winning 2017 Rujak Uleg Festival Surabaya, Sunday, May 14. The team of educational staff won the festival which was held along Jalan Kembang Jepun, Surabaya.
Lima educational staffs who have gain good reputation for UNAIR were Naning, Faiza, Adina, Rustam, and Agus Sinyo. Naning, the coordinator, said that they wanted to have something different for the special culinary event of Surabaya this year.
The team dressed up like witches. Naning said that she was inspired by the Faculty of Psychology academicians' expertise in giving excellent counselling services.
"Our costumes were about witches inspired from Psychological expertise which works like magic," said Naning with a laugh.
Secretary of the Faculty of Psychology Dean said that she distributed tasks to each member. One member participated in the costume contest, one prepared the dish for judging, and three others served rujak uleg to thousands of visitors in the festivals.
Naning said that her team's dish is different from others because of the flavor. She used black shrimp paste sautéed with garlic repeatedly. "We won because of our black shrimp paste. We added some garlic and that's the key," added Naning.
The rujak uleg sauce was served with cucumbers, cow's snout, tofu, soybean cake, rice cake, water spinach and beansprouts.
In serving the dish, the team was expected to be good at multitasking. They served the dish while dancing and singing their group yells. It determined success and also an effective way to make the atmosphere livelier and attract more visitors to taste rujak uleg served by Faculty of Psychology.
Based on the judging process, 60 best teams were chosen from the costume uniqueness, cleanliness, ingredients completeness and continuity of yells.
The judges then chose 12 best teams based on the flavor and the serving. The Mayor of Surabaya symbolically presented the awards to 12 best teams including to Faculty of Psychology team. They won a mountain bike.
In her address, the Mayor of Surabaya said that rujak uleg is a part of culinary tradition of East Java which should be preserved. "Therefore, the objective of this event is to remind the people of that tradition," she explained.
Surabaya Rujak Uleg Festival is a part of the city's 724th anniversary celebration.  This year, the event was participated by more than 1,500 teams from public institutions, universities, hotels and private companies. In this event, the team of Faculty of Psychology won for the fifth time in a row.
Author: Defrina Sukma S