UNAIR NEWS – Long debate between West Pakistan (current Pakistan, ed) and East Pakistan (current Bangladesh,ed) in struggling for over their local languages to be their national language, has become a turning point of Mother Language International Day celebrated on February 21.
To understand the meaning of Mother Language International Day, UNAIR News interviewed Universitas Airlangga's cultural linguistics expert Dr. Ni Wayan Sartini, M.Hum, Tuesday (21/2). The lecturer of Indonesian Literature addressed as Wayan, Faculty of Humanities, UNAIR stated that mother language existence is absolute as every individual speaks in their mother language first.
"The exact definition of mother language term is still debated until now. Some defines mother language is the local language, but others says that mother language is the first language spoken by everyone. For me, both of them are true yet depends on the contexts," Wayan said.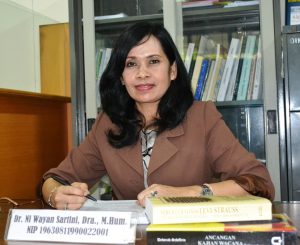 Regarding the existence of local language as the first language spoken, Wayan explained, wisdom and value of the language illustrates the culture of  its speaker. "Language shows the nation and culture the speaker comes from," she added.
Wayan stated that  the globalization will not be barrier for every local language speaker to forget their local wisdom and values behind.
"Go ahead to think globally by learning foreign language. But, don't forget our roots of culture behind. So, let's strengthen our roots while we compete globally," ended Wayan.
Penulis: Nuri Hermawan
Editor: Defrina Sukma S
This post is also available in: Indonesian