UNAIR NEWS – Throughout 2016, academicians of Universitas Airlangga have held more than a thousand activities, either at program, department, or university level.  The events held were educational events, research and community services.
Here's the highlights of 2016:
January:
Rector of Universitas Airlangga inaugurated 52 new officials in university and faculties on Tuesday, January 12 in Garuda Mukti Hall, Management Office Building. UNAIR also established two new institutions, Professional Certification Board and Stem Cell Development and Study Center.
Read more here.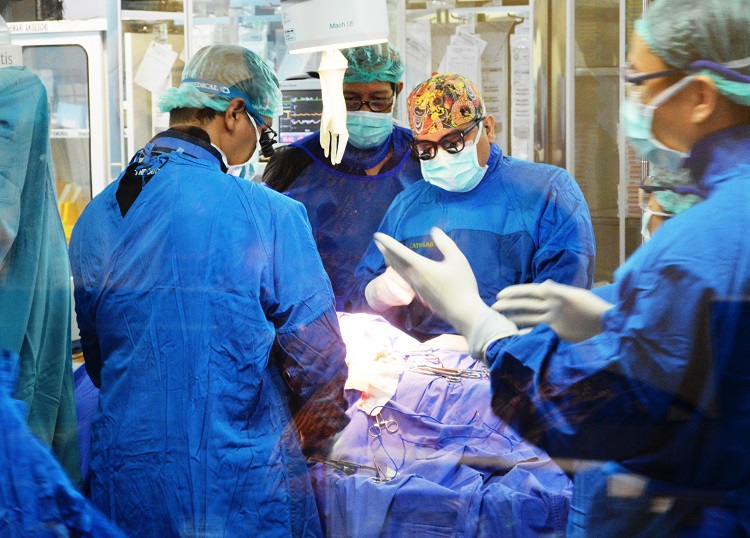 Universitas Airlangga Hospital performed  an operation to a patient with aneurysm (aortic blood vessel expansion) named Nurul Aminah, 55, Friday, January 15, with a new method in cardiovascular surgery, Thoracic Endo-vascular Aortic Repair (TEVAR).
Read more here.
February:
UNAIR Rector with some officials inspected the site in North Gresik for Campus E UNAIR development, Wednesday, February 24. UNAIR visiting group was accepted by President Director of Polowijo Gosari Group.
Read more here.
For transparency and public accountability, UNAIR Rector led the official wealth report (LHKPN) form filling on Tuesday, February 23.
Read more here.
March:
Faculty of Medicine (FK) relief and emergency team, students and alumni supported flooding casualties in Sampang February 29, March 2 and march 5 respectively.
Read more here.
Board of Trustees (MWA) Assembly of eleven state universities acting as legal entity (PTN-BH) held for two days on March 17-18, 2016 has resulted to a communiqué.
Read more here.
April:
Lecturers of Faculty of Nursing (FKp) with Faculty of Nursing (FKp) Universitas Airlangga (UNAIR) cooperated with 14 nursing education institutions to hold international nursing conference,  'The 7th International Nursing Conference: Global Nursing Challenge in Free Trade Area'. The conference was held in Garuda Mukti Hall, UNAIR Management Building, on Friday, April 8 and it was attended by 325 participants.
Read more here.
May:
Universitas Airlangga was trusted to host the meeting between nine universities of East Java and six universities from West Australia on Tuesday May 3 in Kahuripan Hall 301, which was attended by West Australian Minister of Education, Peter Collier MLC.
Read more here.
June:
Doctors and students of Faculty of Veterinary Medicine (FKH) evacuated the stranded whales in Probolinggo on Wednesday and Thursday, June 15 and 16.
Read more here.
July:
Committee III of Indonesian Regional Representatives Council (DPD RI) held a seminar to review validity sexual violence eradication draft bill in Kahuripan Hall Campus C UNAIR on Thursday July 21.
Read more here.
August:
UNAIR Rector Prof. Dr. M. Nasih, S.E., M.T., Ak., has affirmed 6726 bachelor and vocational freshmen. It was held in Airlangga Convention Center on Thursday August 18. It was attended by Ignasius Jonan, while the closing event of freshmen orientation program (PPKMB) was attended by Minister of Social Affairs Khofifah Indar Parawansa. Both are alumni of UNAIR.
Read more here.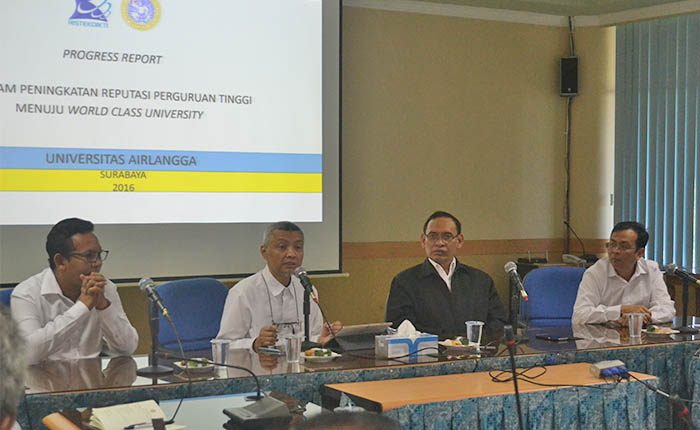 To evaluate the program of World Class University, a team from Directorate of Higher Education (DIKTI) had a meeting with UNAIR officials, on Friday, August 12.
 Read more here.
September:
Universitas Airlangga was chosen as the pioneer of graft prevention and handling on good governance aspect by Transparency International Indonesia (TII) and International NGO Forum on Indonesian Development (INFID) on Thursday, September 15, attended by commissioner of KPK and the Head of Presidential Office.
Read more here.
October:
There were 236 UNAIR research titles assessed and evaluated by six external reviewer appointed by Directorate of Higher Education (DIKTI) from October 27-29, 2016.
Read more here.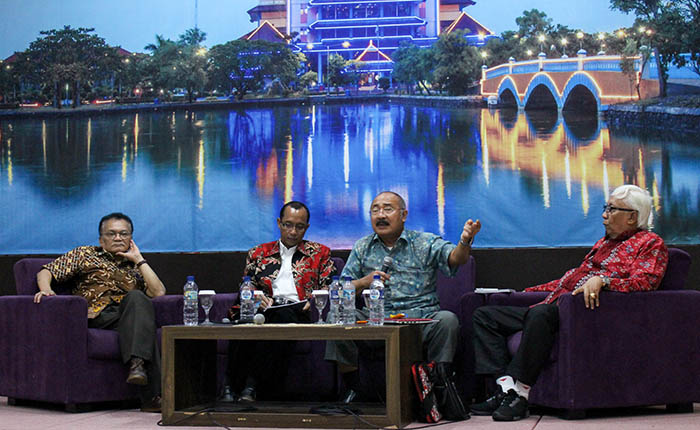 Three UNAIR professors presented their views on Democracy anda Justice in Professors' Innovation Exposition on Wednesday, October 19. UNAIR has held three times similar events with different themes this year. The other two themes were traditional medicine and stem cell research innovation.
Read more here.
November:
On November 10, 2016, UNAIR celebrated its 62nd Dies Natalis. The theme was "62 Years of Universitas Airlangga for Just and Civilized Indonesia". Various interesting events were held, University Open Assembly, Indonesia Research and Innovation Expo, and Tour de Campus. The main event was attended by Indonesian Minister of Agriculture Andi Amran and Deputy Chairman of Corruption Eradication Commission Laode M. Syarif.
Read more here.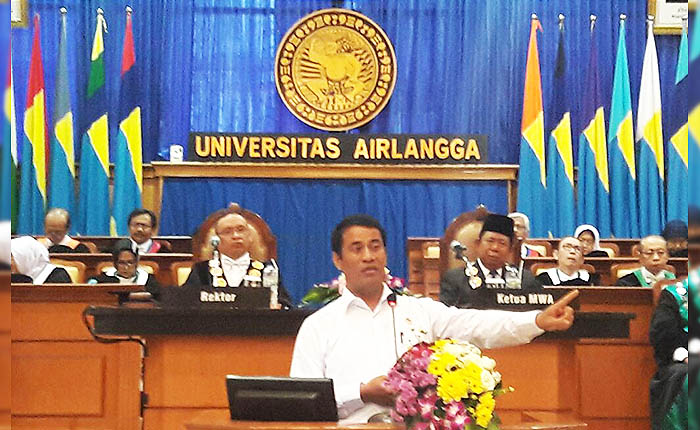 December:
UNAIR has graduated 7,328 students for 2016 from any programs or degrees. In March, there were 2,292 graduated students, in July  there were 835 students,  in September 3,327 students, and in December there were 874 graduated students.
Read more  here.
UNAIR inaugurated three new professors on Saturday, December 10. UNAIR has had 455 professors since its establishment in 1954 while since getting PTN-BH status, it has inaugurated 163 professors. There were 16 professors inaugurated in 2016.
Read more here.
There were three UNAIR programs assessed by ASEAN University Networking-Quality Assessment assessors from December 20-22, 2016.
Read more  here.
Craniofacial team has succeeded to perform second operation for facial cleft patient from Lumajang aged 17, Tutik Handayani.
Read more here.
Author: Defrina Sukma S