UNAIR NEWS – Theatrical comedy held by Indonesian Alumni Association (Himpuni) titled Menyatukan Kembali Nusantara staged in Surabaya Cultural House on Friday evening, November 25, 2016 was a success. The play lasted for two hours and forty five minutes amused and entertained the audience. The players who never acted before made the audience laugh a lot.
There were at least 80 people involved in the performance. Some of them were UNAIR Rector  Prof., Dr., Moh Nasih SE., MT., CMA., Ak., Jember Regent Faida, ITS Rector Prof. Joni Hermana, Central Jakarta Mayor Mangara Pardede, BTN President Director Maryono, also the Head of Organizing Association Muslich Ramelan, also Senior advocates Sirra Prayuna, Bambang Hendroyono, Ridwan Djamaludin, Haiban Hadjid, and other Himpuni members.
Funny things happened during the performance such as when one of the actors called a technician. "Mr. Technician, my microphone doesn't seem to work? Please check this one," said one of the actors. As the technician did not come soon, the well-built actor then said, "Mr. Technician it is okay to get on stage. Don't be shy. Haven't you get your wage?" he said not long before a man in a red cap running to the stage and helped him.
The actors often forgot their scripts and they talked when it was not their turn to speak like Faida did. The woman played Anita Dewi, the wife of Prabu Airlangga. "If we forget some scripts, it's normal as I just practiced once," she said with a laugh behind the stage.
It happened when Anita Dewi had a conversation with Prabu Airlangga (played by UNAIR Rector Prof. Nasih). In a scene, the Queen chased Sri Maharaja Rakae Halu Lokeswara Dharmawangsa Airlangga Ananthawikrama Tunggadewa as he was quite far from her. He did not look at her in the eyes. "Look at me, please" said Faida, the actress with great improvisations.
Listening to her request, Prof. Nasih turned to her. "Oh, okay," he said. Then some people shouted, "Closer!", "Yeah, get closer. You're a couple right?!". "I can't. I won't be able to go home later," he replied and followed with a round of applause and laugh from the audience.
The performance has left an impression. It was amusing with a great story. The director Aries Mukadi, the artist of Wayang Orang Bharata, said that the show was to promote an awareness of unity and to preserve the culture. The story was taken from the Majapahit story in 1400s.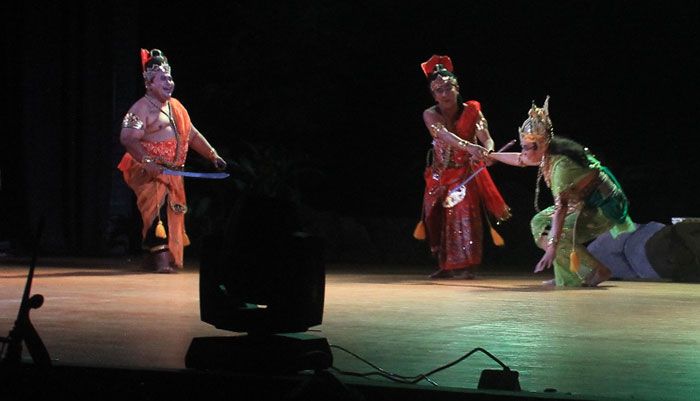 Narrated in the performance, the nation was trying to maintain its unity. It was more or less similar with our current condition. Foreign power influence, economic pressure, political conflicts and disturbances from pirates and rebels, diminishing quality of unity among the leaders. It reminded us on the importance of national unity.
Related to UNAIR anniversary, Naraya Airlangga (Prabu Airlangga) effort to unite the Dwipantara in 1000 M was depicted. Dwipantara belong to Sriwijaya in the West and Medang Mataram in the East. His success in uniting them made him appointed as the King of Kahuripan titled Sri Maharaja Rakae Halu Lokeswara Dharmawangsa Airlangga Ananthawikrama Tunggadewa.
"The moral message of this play is that teamwork was the main key to strengthen the nation. Kahuripan ruled by Prabu Airlangga was prosperous. Therefore many nations joined the alliance. It is a lesson that prosperity strengthens the country so let's together bring unity and made the people prosper," said Prof Nasih after the performance.
HIMPUNI was affiliation of at least 23 alumni associations in Indonesia. They are Alumni Association of Institut Teknologi Bandung (IA ITB), Alumni Association of Universitas Indonesia (ILUNI UI), Alumni Association of Universitas Diponegoro (IKA UNDIP), Alumni Association of Universitas Mataram (IKA UNRAM), Himpunan Alumni of Institut Pertanian Bogor (HA IPB), Big Family of Alumni Gadjah Mada (KAGAMA), Big Family of Univesitas Jenderal Soedirman (KAUNSOED), and Alumni Association of Universitas Brawijaya (IKA UB)
There are also Alumni Association of Institut Teknologi Surabaya 10 Nopember (IKA ITS), Alumni Association of Universitas Sumatera Utara (IKA USU), Alumni Association of Universitas Negeri Medan (IKA UNIMED), Alumni Association of Universitas Andalas (IKA UNAND), Alumni Association of Universitas Lampung (IKA UNILA), Alumni Association of Universitas Padjajaran (IKA UNPAD), Alumni Association of Universitas Negeri Padang (IKA UNP), Alumni Association of Universitas Pendidikan Indonesia (IKA UPI), Alumni Association of Universitas Udayana (IKA UNUD), Alumni Association of Universitas Sam Ratulangi (IKA UNSRAT), Alumni Association of Universitas Sriwijaya (IKA UNSRI), Alumni Association of Universitas Hasanudin (IKA UNHAS), Alumni Association of Universitas Airlangga (IKA UA), Alumni Association of Universitas Veteran (IKA UPNVJ), Family of Alumni Universitas Jember (KAUJE), and Alumni Association of Universitas Negeri Jakarta (IKA UNJ). (*)
Author: Rio F. Rachman