UNAIR NEWS – All this time, wayang (shadow puppet) stories in Indonesia were taken from Ramayana and Mahabharata while there are other historical stories which can be depicted in a wayang performance. One of them is the story of Prabu Airlangga, a king of Kahuripan who ruled from 1009 to 1042. Therefore, in celebration of 62nd Dies Natalis of Universitas Airlangga, an alumnus of UNAIR Dr. Sri Teddy Rusdi, SH., M.Hum., who is also Head of National Wayang Secretariat (Senawangi) who wrote "Airlangga Sumbaga Wiratama" (ASW).
As a wayang story, ASW was not only successful during a wayang performance in Jakarta, September 29 2016. But it was also successfully performed in an all night long wayang performance held in Campus B UNAIR Jl. Airlangga 4 Surabaya, Saturday, November 19. Among the audiences were UNAIR Rector Prof. Dr. Mohammad Nasih, SE., MT., Ak., CMA., vice rectors, some deans such as FKM Dean Prof. Tri Martiana who was the Head of 62nd Dies Natalis of Universitas Airlangga , alumni, Ki Sudjiwo Tedjo, and general public.
Before the performance, UNAIR Rector received three puppets from Dr. Sri Teddy Rusdi. They were Prabu Anom Airlangga, the adult Airlangga and Prabu Airlangga as a ruler. Then UNAIR Rector presented them to the puppet master (dalang) Ki Dr. Bambang Suwarno Sindu Tanoyo, M.Hum. Those three puppets were parts of 27 characters of Wayang Airlangga made personally by  Ki Dalang Bambang Suwarno.
The dalang who is also a lecturer of ISI Jogyakarta, in performing the story of ASW, was able to perform the lengthy story in pakem (mainstream) manner, and well  antawacana (the character utterances). Even without a recess, with a comedy session such as Punakawan in Mahabharata. The performance was a serious story from the beginning to end.
As a pioneer of non-Mahabharata wayang, the characters were not as popular as Mahabharata story (Pandawa and Kurawa). According to Sri Teddy Rusdi, the 27 characters represents other figures in the story like Prabu Udayana (father of Airlangga), Mahendradhatta (mother), Mpu Bharada, Narotama (subordinate), Prabu Kaladhana, Prabu Dharmawangsa, Prabu Wisnu Prabawa, Ratu Prameswari, Mpu Kanwa, Garudhea, etc.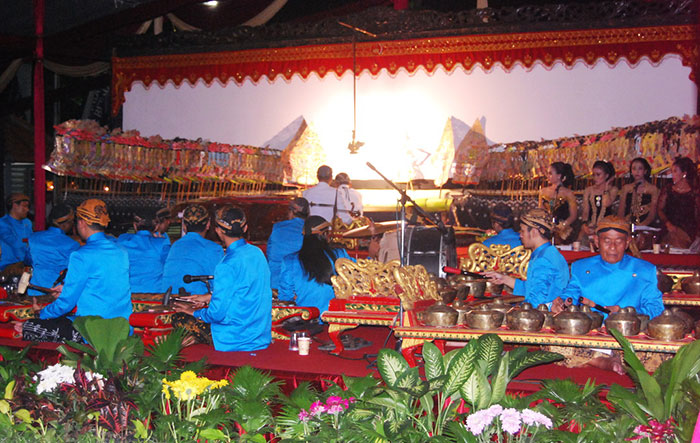 "Airlangga Sumbaga Wiratama", in Campus B UNAIR, Saturday, November 19. (Photo: Bambang Bes)
The ASW performance was started with an act (jejer) of Airlangga's family. During a wedding ceremony of Airlangga and his uncle's daughter (Dharmawangsa) in the Kingdom of Medang (now Magetan), King of Wurawari attacked. Airlangga and Narotama was escaped from them and became a sage. Being a great sage, he has power, he fought back until finally Airlangga won and became a king.
In the end of the story, there was an act of Arjuna Wiwaha from Mpu Kanwa as a depiction of Airlangga's success in battles. Arjuna who was graduated from a sage in Goa Pamintaraga, became  Begawan Ciptoning, he was only expected his kingdom returned and his brothers were back. In the end of the story, Arjuna defeated two giants from Himahimantaka, Patih Mamangmurko and Prabu Newatakawoco.
In a dialog before the first act,  Ki Bambang Suwarno hoped that there are development of the story of Wayang Airlangga, based on the history as well as identical with East Java past kingdoms. Sri Teddy Rusdi also hoped the same.
"UNAIR with Faculty of Humanities hoped that it can concern more with the cultures. Hopefully Wayang Airlangga is even more developed, preserved and developed. So the story is not only depend on Ramayana and Mahabharata," said Bambang Suwarno, who was also going to UNESCO when wayang was acknowledged by the world.
"Usually in a wayang performance, old gendhings (music) are rarely sung, but the dalang ven chose the old music. I liked it as it's been a while since I last heard it," said Marto Waluyo, resident of  Kalidami from Sragen.
Marto was right. That night Ki Bambang Suwarno and five background singers (sinden) played some works of  Ki Narto Sabdho : Gugur Gunung, Konco Tani, Lesung Jumengglung, Lumbung Desa, etc. Gendhing Wadyabala Gumurung and monggang was also played in the end.  In the end there was also prize for the audiences. Tancap kayon, the performance finished at 0345 local time. (*)
Author: Bambang Bes