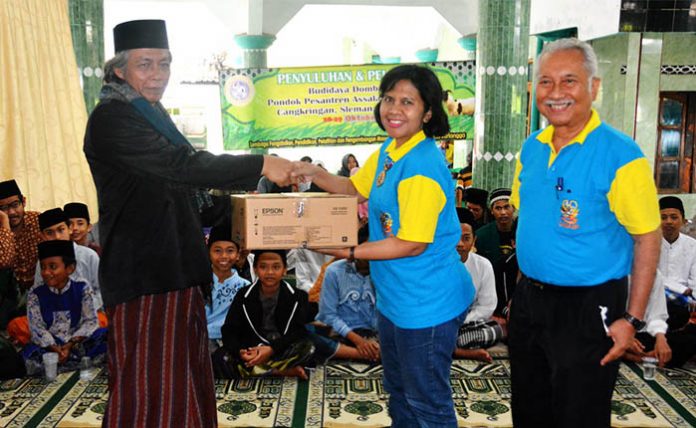 UNAIR NEWS – Universitas Airlangga community service is able to inspire and develop education, it is admitted and experienced by KH. Masrur Ahmad MZ, the  head of Islamic boarding school (Pondok Pesantren) Salafiyah Al-Qodir,  Tanjung, Wukirsari village, Cangkringan, Sleman Regency, DIY.
"It is extraordinary. It was only few motivational sentences but my students were greatly motivated. I don't know why Allah opened my mind through UNAIR. Are the people from UNAIR close to God? In Yogyakarta, we are near from UGM, also Universitas Islam Negeri (UIN) which the students often come here. But somehow, my mind was opened when UNAIR made a visit after the eruption of Merapi," said KH Masrur Ahmad MZ.
It was stated when he was receiving UNAIR community service 2016 team in his ponpes, on Saturday, October 29. Since the eruption of Merapi in 2011, UNAIR academicians has made contribution to relief the disaster. Every UNAIR Dies Natalis celebration, community service team visits the aided locals, such as milk cows aid for Tanjung, Wukirsari village and Ponpes Al-Qodir in the same neighborhood.
The community service team was led by Dr. Ir. Sri Hidanah, MS., Secretary of Institute of Community Service, Education, Training and Development (LP4M )UNAIR and Prof. Dr. Djoko Agus Purwanto, Apt., M.Si (Former Head of LPPM, Current Institute of Educational Assessment and Development (LP3) UNAIR),  Prof. Romziah Sidik, drh., Ph.D (Former FKH Dean/ pioneer Yogya community service), Drs. Ec. Mashariono, MBA (IKA-UA/pioneer), Dra. Widarmami (IKA-UA), Drh. Trilas Sardjito, MS (lecturer of FKH/expert) and staff of LP4M and UNAIR NEWS.
As a devoted member of Nahdlatul Ulama (NU), KH Masrur Ahmad admitted that he was not interested with education promoted by the government. He wanted his school only for reciting Qur'an like the era of Walisanga. But it was before he was visited by UNAIR. As he knew UNAIR vision and mission, he admitted that he was inspired.
"UNAIR officials who are like us can be professors, Why can't I? It was an extraordinary inspiration, made us easily go through life and finally got blessings from the One God. I'm sure there are still a lot of things UNAIR must go through and do to improve," said the author of   "Islam Hijau, Refleksi Keagaman dan Kebangsaan Nahdlatul Ulama" (2014).
Now, there is a modern school in Ponpes Al-Qodir, its Islamic Elementary School (MI) currently has four grades, the junior high school (MTs) has two grades and the senior high school (MA) has one grade. They also develop cooperatives and mineral water production, breed goats and do agricultural activities. KH Masrur Ahmad has also written three books so far.
"I think UNAIR has bigger influence on me than Gus Mustofa Bisri. Gus Mus used to whisper: 'If you are home, start writing.' But I did not obey. Every time we met, he always said the same thing. But when I met Prof. Romziah and Prof. Djoko, I thought: I must follow them. It was extraordinary, I used to be reluctant to build modern school as I believed I would be busy dealing with this and that but UNAIR has inspired me, and the changes here have been great, so it is UNAIR blessing," he said.
According to Drs. Ec. Mashariono, MBA., the advisor of IKA-UA who is the pioneer of this community service, at first UNAIR only donated books. Then in each visit they made, they gave sheeps, computers, laptops and LCD, and workshops on certain topics like library management, teenagers' health and in 2016 on "How to breed the sheep" by Drh. Trilas Sardjito, MS, expert on sheep from FKH UNAIR. Now, there are 15 sheep, and many have been used for their need like for feast or qurban. (*)
Author: Bambang Bes