UNAIR NEWS – As a part of Dies Natalis celebration of Faculty of Pharmacy (FF) Universitas Airlangga (UNAIR),  academicians held a panel discussion participated by students and lecturers. The event titled "Drugs as Strategic Commodities to Realize Healthy Society" was held in Faculty of Pharmacy (FF) Hall UNAIR on Monday, September 19.
The panel discussion was attended by seven speakers divided into two sessions. In the first session, the speakers were Dr. Faiq Bahfen, an expert of healthcare law,  Prof. Tutus Gusdinar Kartawinata as the member of National Pharmaceutical Committee, and Drs. Nurul Falah Eddy Pariang as the head of Indonesian Pharmacist Association.
In the second session, the speakers were Dr. Poernowo Boedi, Sp.PD., K-GEH as the Indonesian Doctor Association functionary, Drs. Harry Bagyo, Apt, as the industrial practitioners, and I Gusti Ngurah Bagus Kusuma Dewa, as the head of Drug and Food Monitoring Agency Center of Surabaya.
In the presentation, Tutus said that pharmaceutical human resources is regulated in Law Number 36 of 2014. Regarding the regulation, he questioned the position of pharmaceutical scientists, as the resources included were pharmacist (profession) and pharmaceutical technical staff (vocations).
"The issue is 'Where is the scientist position?," asked Tutus.
Pharmacist position in Law Number 36 of 2009 was also questioned by Nurul. According to Nurul, the regulation stated in Article 108 Section 1 tends to be multi-interpretative even though it is elaborated already. The interpretation meant was on the pharmaceutical practice which can be performed by healthcare staff such as doctors and dentists if the pharmacists are not available.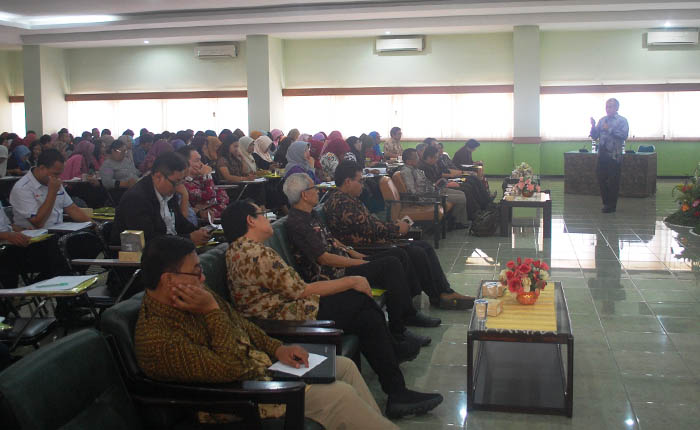 After the presentation, the speakers were questioned by the panelists. The panelists were Professor of FF UNAIR Prof. Fasich, and Healthcare Law expert Andriyanto. Prof. Fasich said that drug problems are expected to be resolved if the healthcare staff can create synergy to provide healthcare in harmony. Therefore, there are four things in need of evaluations, the low level of trust at work, information sharing among healthcare staff, independency and accountability of each organization. (*)
Author: Defrina Sukma S.
Editor : Faridah Hari