UNAIR NEWS –  Universitas Airlangga (UNAIR) keeps making efforts to achieve the target to be World Class University (WCU) in 2019. This efforts are made by any elements of UNAIR, including the students. One of the contributions made by students is in forms of study visit to some reputable universities abroad.
In a study visit held on September 4-9, six students of UNAIR visited National University of Singapore. They were Dwi Yulian Fahrudin Shah (FST/2013), Denika Liyan Nur Wibowo (FST/2014), Audyla Dwiki Kartikawati (FST/2015), Iflah Aninda Wahdani (FST/2015), Muhammad Vikar Reza (FISIP/2015) and Agung Tri Putra (FISIP/2015). They named this study visit as Asean Youth Global Forum 2016.
"We chose Asean Youth Global Forum 2016 as it is a student forum of Asean students (NUS and UNAIR, ed). Beside research and scholarship, we also discussed about global issues," Dwi Yulian as the team leader.
During the event, they were given opportunity to present UNAIR, either academically or non-academically. They also shared knowledge with NUS students on scholarships, research, academic activity and alumni.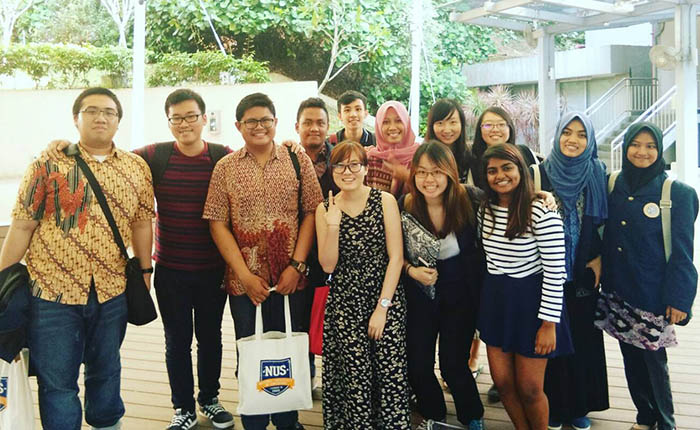 Besides gaining experience, Dwi Yulian also said that he got a lot of benefits for taking part in the program. He admitted that he got a lot of academic or non-academic information from the number one university in Asia.
Dwi Yulian hoped that the information he got can be applied in UNAIR. "At NUS, the students have great initiatives to develop and improve themselves, the academic atmosphere was immense as in every spots of the university, he saw students learning, having discussions and doing assignments. So it improves our spirits to learn," he said. (*)
Author : Faridah Hari
Editor : Dilan Salsabila