UNAIR NEWS – 29th Student National Science Week (PIMNAS) held in Institut Pertanian Bogor (IPB) presents some unique facts of Universitas Airlangga (UNAIR) contingent. The contingent got through the final round with 21 teams has some interesting facts not widely known. They can bring success for the contingent with "UNAIR, Satu tekad , Satu nyali, Pasti juara" as their motto. Those uniqueness are as follows:
Contingent with the most team ever
In the history of UNAIR participation in PIMNAS, UNAIR contingent in 2016 is the biggest in final round with 21 teams. In the last five years, even though UNAIR sent a few teams in PIMNAS, it always finished as the big five.
"It is indeed the year with the most teams in history with 21 teams. And hopefully, with more or few teams UNAIR still be champion," said M. Dedy Bastomi, one participant from UNAIR with three proposals in PIMNAS.
Participate in all categories of PKM
Second unique thing is that UNAIR competes in all categories of PKM, PKM-K (Entrepreneurship), PKM-KC (Karsa Cipta), PKM – M (Community Service), PKM-PE (Exacta Research), PKM-PSH (Social Humanity Research), PKM- GT (Written Idea). "Alhamdulillah this time we have representatives in all categories of PKM," added Dedy.
Same uniform even in different groups
Next uniqueness from UNAIR is the same uniform worn by all teams from UNAIR. It was reasonable as according to  M. Deny Basri, one of the participants with twice participation in PIMNAS, same uniform will be appropriate when there is something urgent comes up such as presenting two works in a continuous turn. "Uniform is appropriate in case we have to conduct presentation again after one, so we don't have to worry," explained Deny.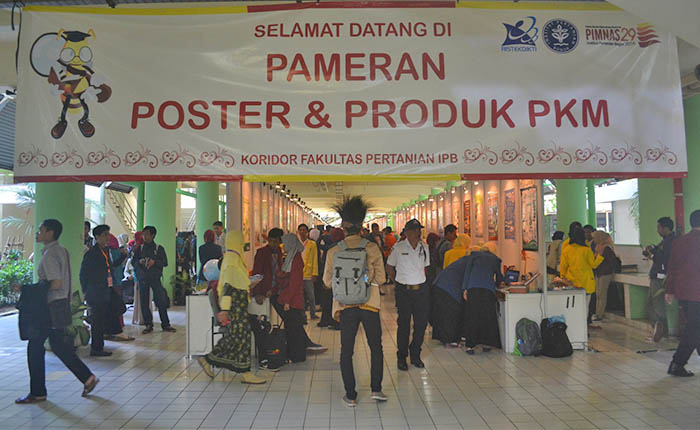 Picked up by cars
UNAIR is quite prepared to facilitate its contingent in PIMNAS. Beside giving a proper accommodation, every team is mobilized by car from the hotel to PIMNAS location. Deny said that it has been done for years so the teams' focus can be optimal. "UNAIR always facilitates the contingent well, so did last year," recalled Deny who also participated in PIMNAS in Kendari.
The participating twins in PIMNAS
The last unique thing from UNAIR contingent is the participation of twin students who often participate in PIMNAS. Even though they are from a three year program, the twins from Kediri also participated in PIMNAS last year. Two years of participation in PIMNAS is the best thing ever happened to them during college.
"Even though our works got through the competition and we were always in a team, it did not mean that we never had a dispute," he said. (*)
Author : Nuri Hermawan
Editor    : Binti Q. Masruroh