UNAIR NEWS – In celebrating Eid-ul-Fitr, Faculty of Dentistry (FKG) Universitas Airlangga (UNAIR) held halalbihalal in the carpark last Thursday, July 14. It was attended by many academicians from students, lecturers, teaching staffs to retirees.
The retired academician attending the event looked very happy after being away for a long time. Musical group, Caramellos, consisted of five senior lecturers performed old favorite songs. They also played for the women's poco-poco dance in the stage.
Beside Caramellos, halalbihalal was also attended by some retired professors. Two of them were Prof. Dr. Krisnowati Djojosoedarsono, drg., Sp.Pros., and Prof. Dr. Nini S. Winoto, drg., MS, Sp.Ort.
Changing Curriculum
Prof. Nini, recorded as a student of FKG UNAIR in 1953, had her own story about the faculty. At that time, FKG was still Dentistry Institute (LIKG). As the country's security was still improving , Prof. Nini had many friends returned from the battle fields.
"At that time, the students were mixed. Studying here was something new. We studied with students who were back from struggling. Many were accepted, one full class. We went early in the morning to get the front seat. I did not know how many were that year students, it might be hundreds," said Prof. Nini.
Beside her friendship, one thing she remembered was the curriculum which kept changing. In Prof. M. Knap's leadership from 1949 to 1953, the length of course in LIKG was four years. After his retirement, Prof. M. Soetojo was in charge until 1954, LIKG was changed to be six levels.
"Curriculum kept changing. I was in some levels then the class was merged with Faculty of Medicine (FK) in propadus room," said Prof. Nini.
Keeps Learning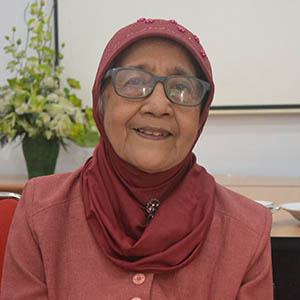 Before being a lecturer in Prostodontics Department FKG UNAIR, Prof. Krisnowati studied in dentistry in 1956. There were some differences between FKG then with FKG now.
There did not used to be so many students like now, and the requirements to be lecturers which were getting difficult. "The requirements to be lecturers now seem difficult. Then, as long as you were assigned to study, you could be a lecturer. But now, it doesn't seem that way," said Prof. Krisnowati who was graduated in 1964.
Finished with college, Prof. Krisnowati who was tied to a contract with General Directorate of Higher Education, she had to serve as a lecturer until 2000. According to Prof. Krisnowati, a lecturer had to study and expand their knowledge. So when she was serving in FKG UNAIR, she got a chance  to continue study in England.
"Fortunately I got assigned to study in England. As a lecturer, I had to expand my knowledge.  Then for the doctoral program, I got sponsor from the same university," she said recalling the university she studied.
As study assignment, the woman achieved professorship in 1990 also got a course on scientific and popular writing also translation. She used the knowledge until now. She is an editor of a magazine on clinical pathology.
Prof. Krisnowati also gave an input to improve FKG UNAIR in the future. She said that Community Service Program – Learning Together with Community (KKN-BBM) should be maintained in the future.
"Students should not be only bachelors (S-1). When I was a student, there was KKN, it is still needed. So they do not learn the theories. What the people want, they also need to know," said  Prof. Krisnowati whose scientific oration in her professorship titled 'Gnatologi dan Wawasan Paradigma Ilmu Kedokteran Gigi Komunitas. (*)
Author: Defrina Sukma S.
Editor : Dilan Salsabila