UNAIR NEWS – Faculty of Veterinary Medicine (FKH) Universitas Airlangga (UNAIR) does not only have excellent academic facilities supporting students' learning process, but it also has a unique supporting facility. It is a mini zoo.
Like the usual zoo, the animal installation is inhabited by three different animals. There are iguanas (Iguana iguana), cats (Felis catus), and snakes (Boa constrictor imperator). In details, there are 11 adult iguanas, 8 young iguanas and 11 eggs. There are two pairs of snakes and dozens of cats.
Some of the animals belong to the students interested in reptiles like iguanas. "At first, it was because of interest of FKH students who are also already in communities outside. They wanted to make a mini zoo in campus. Finally, we discussed it with other friends and lecturers. And it is approved," said one of the initiators of iguana breeding, Fajar.
For iguana breeding, the students take turns in feeding them with vegetables such as water spinach, Chinese cabbage, and bean sprouts. Every day the iguanas need 20 bunches of water spinach, and Rp 5 thousand- Rp 10 thousand of beansprouts. Sometimes they give them carrots.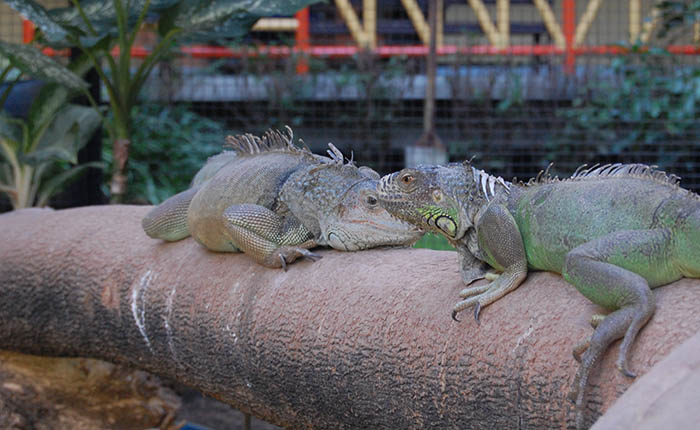 For the snakes, Fajar said that they do not have special time to feed or dump. "We can leave them for a while. They eat twice a week. They each eat one big white rat and it is enough for two weeks. So we do not have to attend to them every day like the iguanas. They dump ten times a day," said Fajar.
Fajar said that the four snakes have albino gene in them. So if we breed them, they will have albino offsprings too. The snakes they have were about 150 cm long. Both pairs of snakes are kept in a glass cage about 2.5 m.
So do the cats. According to Reza Indra Pahlevy, as the Head of Pet Division of Pet and Wild Animal Community, his group is now looking after dozens of cats roaming around the campus.  The program of looking after the stray cats have been done since May 2016.
Dozens of cats are placed in three home range, in a corner on the second floor, on the first floor near the iguana cage, and in the corner of the hall first floor. "To look after the cats, we provide them home range first. Initially we introduced them to the environment for two weeks. Then they will stay and prevent them from exploring or finding other partner from outside campus," said Reza.
In their home range, they are provided with wood house, feeding container, and sand box. Theoretically, their home range is their food source. Reza said that in the corner of the hall, first floor, there is a male cat and six female cats.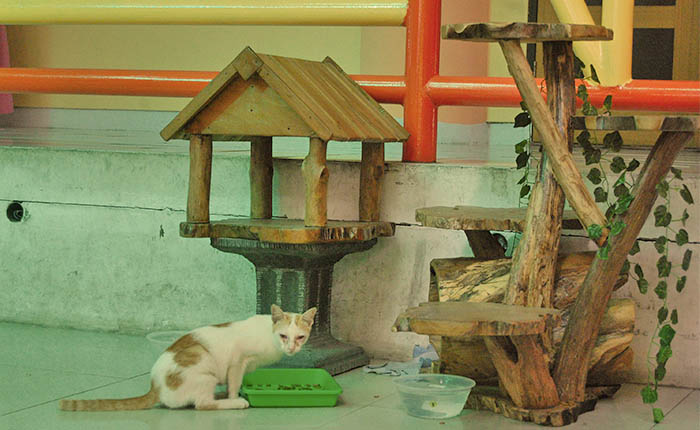 "There is a sand box to dump so the cats can follow their instinct. There's a feeding container. Why is the food container wide, because we wanted to train not to fight as there are many reports of male cats fighting here," said Reza.
Improve the competence
Seeing the students care about the animals, Vice Dean II of FKH UNAIR, Dr. Mufasirin, drh., M.Si, said that FKH officials are proud of their activeness. "They have competences not only for domesticated animals but also the wild ones. It is one of the competences a graduate should possess," said Mufasirin.
According to Mufasirin, hobby community is important to facilitate their interests. For Mufasirin, students should not only go through the curriculum, but they should also improve their self ability through hobby community. As high official, he supported the activities, such as with facilities, funding and consultation activity.
Author: Defrina Sukma S.
Editor: Nuri Hermawan