An afternoon, in a dorm of  Soverdi monastery on Jl. Polisi Istimewa Kota Surabaya. A polish man was sitting in a round chair, staring at the screen of his computer. Next to him a pack of his favorite cigarettes. He took them one at a time, lighted it and smoked. Prof. Dr. Habil Josef Glinka, SVD seemed enjoy that afternoon.
The man born in Chorzow, Poland, on June 7, 1932 known as Father Glinka, enthusiastically shared his stories in developing bio-anthropological science in Indonesia, especially in Universitas Airlangga (UNAIR) Surabaya. He objected when UNAIRNEWS mentioned him as the Father of Anthropology, even though he was a senior anthropologist at that time.
"Not me, my best friend, Lie Gwan Liong to be precise. He started Anthropology department of FISIP UNAIR. Because of him too, I could be here," he said. The man Lie Gwan Liong he mentioned was the man we know better as Adi Sukadana.
The passing of Prof. Dr. Teuku Jacob (UGM, died at 77 in 2007), 84 year old Prof. Glinka is now the most senior professor of Bio-Anthropology. Prof. Teuku Jacob has produced a professor, Prof. Etty Indriati, while Prof. Glinka for 27 year in service as Professor of FISIP UNAIR has not made a single professor yet, but he has produced 13 doctors on Anthropology.
"Hopefully, in the near future, there will be a new professor of Anthropology from those 13 doctors in UNAIR," said Prof. Glinka.
30 Years in Surabaya
Young H.J. Glinka arrived in Indonesia on August 27, 1965. He was informed by a Polish diplomat in Jakarta that there had been an anthropologist married to a Polish woman in Moskow, Prof. Ave, an expert of cultural anthropology. Then Glinka was referred to go to Universitas Inndonesia to meet dr. Munandar on Anatomy. Munandar was not an anthropologist but he had had research in Kalimantan, and he was surprised with his coming.
After having a conversation, Munandar said that he had a friend in Surabaya, Lie Gwan Liong on Anatomy FK UNAIR. Gwan Liong then invited Glinka in to Surabaya. One day in the anatomy lab FK UNAIR, the staff were surprised by this new foreigner in UNAIR as there were no other foreigners than Prof. Snell. Gwan Liong who later known as Adi Sukadana, was pleased with his visit and invited him for lunch at his house.
"Adi's is the first Indonesian family I visited. He was a diligent doctor who learned Anthropology from Prof. Snell," recalled Prof. Glinka.
The clergyman graduated from SVD Seminary in Pieniezno (Poland) in 1957 then went to Flores to meet Father Yosef Diaz Viera who was recruiting many priests to serve there as well as to follow his uncle's footsteps to teach in Ledalero Seminary, Flores (1966-1985). During his stay in Flores, every year, he always visited Adi Sukadana in Surabaya. As Glinka was graduated on Anthropology of Mickiewicz University, Poznan, Poland, and his dissertation was about Indonesia, he was then invited to join in Indonesia Anatomy organization where Adi Sukadana and Teuku Yacob were also the members.
To make it even more integrated, Adi suggested to combine cultural anthropology which he masters with bio-anthopology mastered by Glinka. After a while waiting the process, the Professor from Uniwersytet Jagiellonski, Krakow in 1977, then invited in UNAIR Anatomy. In 1984 Prof. Glinka came to UNAIR and the establishment decree of UNAIR Department of Anthropology was acquired, so in 1985, Department of Anthropology FISIP UNAIR was officially opened.
"Then in July 1985, I moved to Surabaya and live here since then. It has been more than 30 years," he said joyfully as his 50 years of presence in Indonesia was celebrated in Flores even though he could not come.
Being a professor and having developed anthropological study in Indonesia for 27 years in UNAIR, in 2012 Prof. Glinka asked for retirement because his physical condition. Despite his retirement, Prof. Glinka is still asked for counsels, study sharing, external examiner of doctoral exam, seminars and other activities.
 AN INTERVIEW with Prof. Glinka:
What motivated you to stay long in UNAIR?
My motivation was Adi's request, and I wanted to help. There is no other mission. My main consideration was anthropology development. That's why in 1984 I asked Adi to write a letter to my superior in Rome. He agreed so in February 1984 I moved to Surabaya.
How did you adapt when you first taught in UNAIR?
Accomodation in UNAIR was not an easy thing. You can imagine, I used to teach in seminary, a catholic environment with boys as students. Then I moved here without knowing who was moslem, Christian, catholic and with female and male students. The rhythm at work was different from when I was in Flores. Then Adi and I then shared classes. Of course, I taught more classes as the other lecturers were young, not graduated yet ad most of them not from anthropology. Practically there were only two of us. But we're grateful as it slowly developed.
What was the up and down struggling for UNAIR Anthopology?
In our first weeks we taught 14 hours a week. I also wrote my own hand-out for students. Onny Joeliana, Totok (Toetik Kusbardiati), Myta (Myrtati Dyah Artaria) were the first class graduates. In 1990 there was a tragedy; Adi Sukadana became ill when he was doing a field research in Banyuwangi. He was attended in hospital but after a few days he left us all forever.
After that everything was totally different. I had to take over all Adi's classes, either in FK, FKG and FISIP. So it was very hard. Finally I talked to the Rector, the rector was Prof. Dr. Soedarso Djojonegoro at that time.
I asked him: "Will Anthropology die with me?" He answered "Oh no, Anthro has to keep growing". "Then give me assistants". At that time, Myta and Onny were done with their thesis. I asked them both, but the rector said that there was only one seat, so Myta became my assistant. Jakarta might see us as a new department. After there was an assistant, my burden was lessened.
Who is Professor's cadre for UNAIR Anthropology in the future?
After 1.5 years, I got Totok (Toetik Kusbardiati). Then Myta continued her study in the USA, and Totok taught with me. After I encouraged, Totok finally continued her study too. She chose to study in Hamburg, Germany and graduated summa cumlaude. Her role in developing and serving for Anthropology was also excellent, especially after she was back from Japn and Kuala Lumpur and brought home International Anthropological Forensics Certificate.
When there is a disaster, Totok is often asked to assist DVI (Disaster Victim Investigation) team, as there are only two experts in Indonesia and both of them are women. Therefore, after Prof. Teuku Yacob's passing, the center of anthropological study, in my opinion, is no longer Yogyakarta but Surabaya (UNAIR).
What are your expectations for UNAIR Anthropological Department?
For the last few years, I have kept telling the dean and rector to focus on regeneration. Someone who will take my place needs ten years, doctoral study, specialization an all. It needs improvement. I hope they keep learning and growing. I am optimistic UNAIR Anthropology will have a new professor, we can already see the candidates.
What do you feel for taking parts in Indonesian Anthropological science development?
I am pleased day by day because the development is excellent, and it is worked on seriously. But I am a bit disappointed when the cadres of anthropology involved and busied by managerial bureaucracy as their time for researches will be spent.
Do you have a special memory in UNAIR?
Of course. In 1998 I was going to be expelled by ICMI for Christianizing moslem allegation. But when they heard the rumours, students went on strike to the management and defended me. Onny and Nanang Krisdinanto also wrote about it  in Surabaya Post. In holiday, Prof. Soedarso (Rektor) came to me and confirmed that there will be no one expelled. The weird thing was, when the news broke, UI and other Universities contacted me and tried to recruit me. I refused.
With the struggle, professor still have objection to be called as "Father of Anthropology" or "Anthropology Duo"?
Adi Sukadana. Not me. He was the pioneer. He also collected books and anthropological items and made a museum. But we agreed on one thing: I was on bio-anthropology and Adi was on historical or cultural anthropology. Duo? Yes, we struggled together.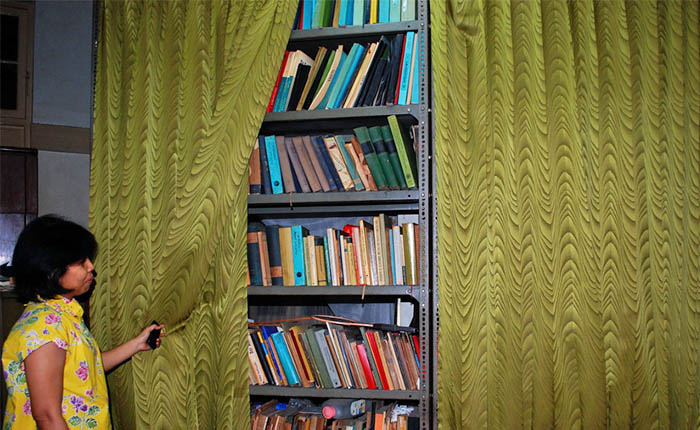 Where will these hundreds of books on Anthropology in your residence go?
In my will, I wrote that all these anthropological books will be given to UNAIR, I do not know for the other books. Beside books of anthropology (bio anthropology and cultural anthropology – separated), there are magazines, encyclopedia, and theological books. Some of the books were ten years old, but most of them were in German, Russian, English and Dutch and about anatomy. Therefore, when I supervised my doctoral students, many of them read here.
We heard Prof. Glinka is a polyglot. What languages do you speak?
I know nine languages, but I only master four of them. I got German and Polish since I was born, because my mother was German and my father was Polish, and I was born in Poland. So Polish is my mother tongue. Other languages are Indonesian, English, Hebrew, Greek and French. I almost lost my French but after staying there for 2-3 days, I remembered and understood the language again. Mastering many languages is pleasing as we can get more knowledge. So the books in this bookcase are in nine languages.
Have you ever wanted to go back home in Poland?
No. In Poland, Who knows me? Most of my friends passed away. It is a mining town, they worked hard until they were 40-50 years old. They were tired. There might be only two or three friends left, but here I have a lot. I pooved it, when I went to Soverdi (SWD) and Ordo, their priest was just born when I leaft for Indonesia. A friend of mine has just been there, Poland, He did not know almost half of the clergymen.
Do you love Surabaya?
Right. I have my pride here. I have produced 13 doctors in UNAIR either as promoter or co-promoter. I have written an autobiography in Polish, when my friends read it, they were amazed and felt like kids. It was because they were still produced 2-3 doctors while I have produced 13.
From the biography, my friends know about the story of my life. They said: It seems like God has created you for UNAIR. I did not want to study, I was asked to do it. Then the monastery asked and I studied sociology and anthropology. Then I developed it in UNAIR with Adi Sukadana. Our memories together for 27 years in UNAIR are beautiful. I am proud of them. (*)
Interviewer: BAMBANG BES