UNAIR NEWS – For three days starting Wednesday June 15 to Friday June 17, Directorate of Student Affairs Universitas Airlangga has a big event. It was a monitoring and evaluation of Student Creativity Program (PKM) of General Directorate of Learning and Student Affairs form Kemenristek Dikti).The event was held in Meeting room A, B, and C of UNAIR Management Building, Campus C Jl. Mulyorejo Surabaya.
According to Dr. E. Bimo Aksono, drh., M.Kes., the Supervising Coordinator of UNAIR PKM, UNAIR was appointed to host the external monitoring and evaluation because there were a lot of PKM UNAIR proposals who have been funded by Ditjen Dikti, there were 167 proposals to be exact.
Then, besides from UNAIR, there were 25 proposals from other universities to be monitored and evaluated in UNAIR, they were from STIE Perbanas, Universitas Pembangunan Nasional (UPN), and Universitas Surabaya (Ubaya). So the total was 192 PKM proposals.
For the event, Dirjen Dikti sent three interviewers to assess the monitoring and evaluation, Prof. Dr. Harun Joko Prayitno, M.Hum from Universitas Muhammadiyah Surakarta, Ngadiwiyana, S.Si., M.Si, from Universitas Diponegoro (Semarang), and Dr. Ir. Budi Hariono, M.Si., from Politeknik Jember.
PKM proposals to be monitored and evaluated included four aspects, PKM on Exact Science Reseach (PKM-PE), PKM on Social and Humanities(PKM-PSH), PKM on Entrepreneurship (PKM-K), PKM on Inventions (PKM-KC), and PKM on Technology (PKM-T). And one more PKM – GT (Written Ideas) has not held monitoring and evaluation yet. Some PKM lecturers were also present to support their students.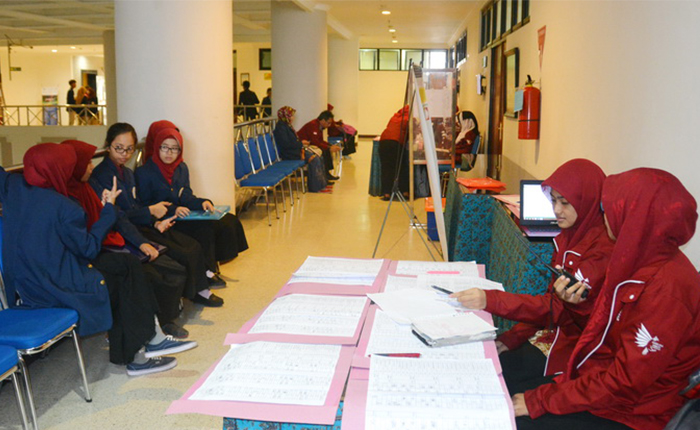 "Because there are so many teams to monitor and evaluate, and there are three days with three interviewers, so this activity will run until 23.00," said Bimo, who is also the secretary of Information and Public Relations Centre (PIH) UNAIR. But the staff is assisted by Airlangga Sakti, a student organization of UNAIR which supports PKM and other student activities.
"Alhamdulillah the external monev ran well, as the participants are scheduled, so all is anticipated," said Moch. Yazid Abdul Z.A., Faculty of Vocations student, a member of Airlangga Sakti. (*)
Author : Bambang Bes