UNAIR NEWS – Hearing is one of the senses important for human, especially in communicating. If the hearing organs have problems, then an individual will have difficulties to communicate in daily life. One of the causes can be from the eardrum. If the eardrum (tympanic membrane), which vibrates in response to sound wave, ruptures then the sound cannot be heard effectively.
Data of World Health Organization (WHO) showed that there were 250 million or 4.2% of the world's population have suffered from hearing impaired and deafness and less than a half is in Soetheast Asia and 4.6% of it is in Indonesia. Based on that fact, five students of Biomedical Engineering, Faculty of Science and Technology (FST) Universitas Airlangga (UNAIR) were inspired to find the best composition in making artificial tympanic membrane.
The five students are Rara Setya Angtika (2012), Ditya Hanif Kharisma (2012), Brillyana Githanadi (2012), Tarikh Omar Asyraf (2014) and Adita Wardani Rahmania (2014) also Dr. Prihartini Widiyanti,. Drg,. Mkes, as the supervisor of the team. They submitted a proposal for Students Creativity Program "Sintesis Komposit Kolagen-Kitosan Dengan Penambahan Gliserol Sebagai Membran Timpani Artifisial Pada Kasus Ruptur Organ DalamTelinga (Collagen-Chitosan Composite Synthesis with Gliserol as Artificial Tympanic Membrane on Ruptured Eadrum Case)", it was approved by General Directorate of Higher Education to be funded.
In the process, the PKM team combined collagen-chitosan composite and added glycerol as artificial tympanic membrane composition. The use of natural material as artificial tympanic membrane is deemed to have better characteristic and bio-compatibility.
"As collagen is the most important structure for inner layer of tympanic membrane, it supports the tissue regeneration including the cells," said Rara as the head of PKM team.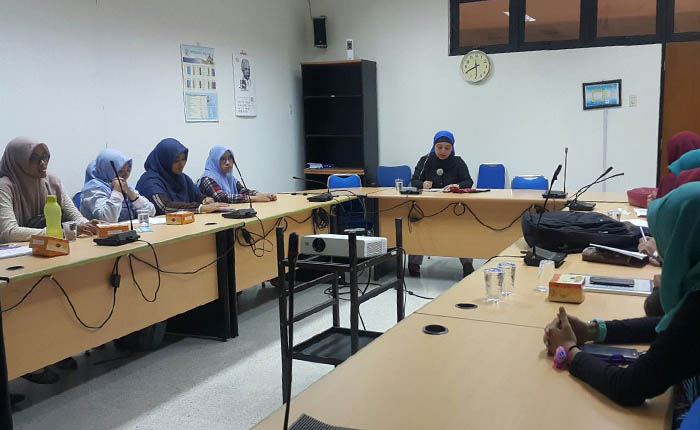 Successful Test
To fulfill its physical and mechanical characteristic of an eardrum, the artificial tympanic membrane composition process has undergone various tests. They were FTIR test to determine sample quality, membrane density test, module elasticity test to measure sample's elasticity, MTT assay test to determine toxicity in sample, anti-bacterial test and sound absorption coefficient test.
Rara said that the artificial tympanic membrane sample of her team has passed the tests and met the physical and mechanical standards of an eardrum.
"Absorption coefficient test showed that the sample can absorp sound in the frequency range which is heard by human until 80 dB, it means the sample is capable and potential to be artificial tympanic membrane," she said.
"Hopefully this research can be a reference for artificial tympanic membrane development in the future," she said. (*)
Author : Bambang BES
Editor : Dilan Salsabila