UNAIR NEWS – "Nemu jaket ngarepe gapuro, Kresek ireng isine tahu, Ojo kaget karo Suroboyo, Lanang ganteng wedoke ayu," that's a shouting chant of UNAIR Facuty of Psychology which retained its champion title in Rujak Uleg Festival held by Surabaya city government. The achievement has been won four times by Psychology UNAIR team which was in the best fifteen of annual participants celebrating Surabaya Anniversary.
There were five people in a team serving rujak cingur in a festival held in Kembang Jepun Chinatown on Sunday May 29. The team lead by Naning as the secretary of FPsi Dean with other four people, Agus, Harri, Qomari, and Ratna. They were staff from various units in Facuty of Psychology UNAIR.
To serve delicious rujak uleg the team prepared the utensils and ingredients determined by the committee and judges. For its flavor, the team used peanuts, petis (condiments of the fermented fish or shrimp, brown sugar, salt, fried garlic and pisang kluthuk (a kind of green banana with seeds). For the ingredients, the team prepared cucumber, white juicy tuber, cooked nose of cows, tofu, soybean cake, rice cake, young mango, beans and sprouts.
To get a different taste , Naning the member had a special recipe. "We bought petis from Madurese, then we added garlic. We also bought one nose. The nose was boiled for three hours," said Naning.
Before the competition, the Mayor Tri Rismaharini and the general consulates from the friendly countries mixed the rujak in one big mortar. After given the sign, the participants shouted their chant shaking their body to make the event even more livelier.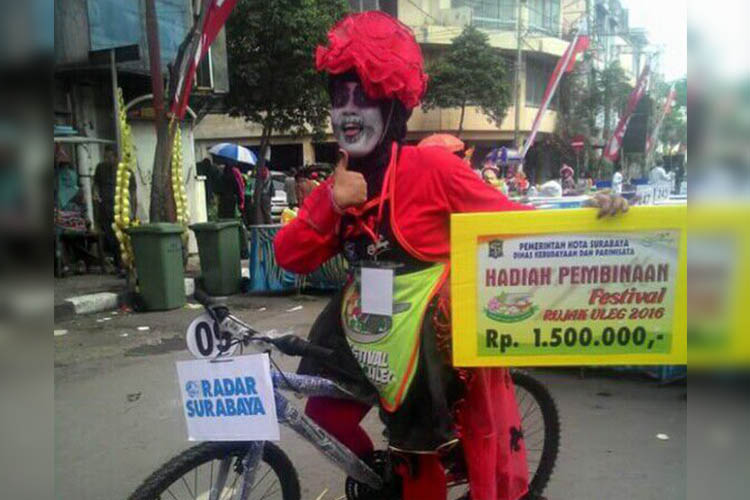 Naning Dyah one of the team members of Psychology UNAIR (Photo: UNAIR NEWS)
In festival, the committee asked each team to make ten portions of rujak. But because of fund support by faculty, the team served 20 portions of rujak uleg. Besides serving for the visitors, they had to prepare a portion for the committee for evaluation.
"We shared the tasks. One person made rujak for the committee, four others made for the vistors. And we did not stop shaking our bodies to enliven the atmosphere. So we made the dish while shaking our bodies following the music," said the secretary of UNAIR Pshycology Dean while giggling.
In costumes dominated green and red, they used thick make-up. Naning said, the costume concept was imitating Lady Gaga.
The judges evaluated and nominated 45 best teams from the uniqueness of costumes, cleanliness, ingredients, and the moves when shouting the chants.
Then, the judges determined best 15 teams from the taste and serving of the dish. The mayor Tri Rismaharini symbolically presented rewards to 15 best teams. They got Rp 1.5 million each.
Overall, the festival was followed by 1,500 teams. They were from universities, starred hotels, government institutions, and also private companies. (*)
Author : Defrina Sukma S
Editor : Nuri Hermawan