UNAIR NEWS – Friday prayer on May 27, 2016 was the first prayer after Ulul Azmi Mosque Campus C Universitas Airlangga (UNAIR) was officially opened in the morning. Ustadz Drs. M. Taufik Ab was appointed as the khatib and imam of the prayer.
The three-floored mosque was crowded. The floor used for prayer was the second and the third. Among the prayers were the Head of the Indonesian Supreme Court who is also the Head of IKA UNAIR,  Prof. Dr. M. Hatta Ali, East Java Governor Dr. Soekarwo, SH., M.Hum, UNAIR Rector Prof. Dr. Moh Nasih, the project leader Drs. Haryanto Basyuni, IKA UNAIR officials, alumni, donators, students and UNAIR employees.
In his sermon, Ustadz Taufik encouraged the prayers to make the mosque which spent Rp 17 billions to built, not only as a place to pray but also as Islamic study center and intellectual activities. The results of these intellectual studies will shine the human civilization.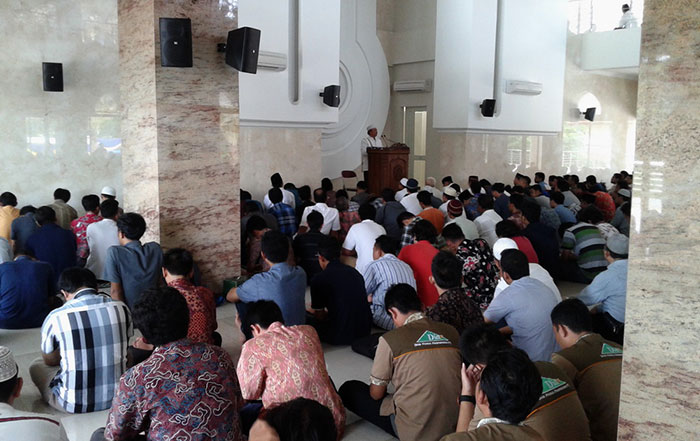 A mosque as a center of Islamic study, as Ustadz Taufik said, is not a new thing. It had been started by the Prhophet Muhammad SAW during his hijrah (emigration) to Madinah. The first thing the prophet build was a mosque, Quba and also Nabawi mosque. They are where the Islamic civilization was developed for the first time.
"With Ulul Azmi mosque in campus Universitas Airlangga (UNAIR), hopefully it will produce bachelors which are not only smart but also with great piety," he said.
For students, the leaders of the future, it is important to have the power of faith and piety. One thing we expect from them were they will not direct their intelligence for something less useful and bad things such as starting a liberal Islamic movement. So they will use their intelligence to make ideas useful for the development.
He suggested to gather the students as many as possible, group them according to their ability. For students who can read Quran, teach them. For students who have not been able to read correctly, improve their ability. For students who love studying Quran , teach them its real meaning, they will become Islamic intellectuals with positive attitude and useful for the society development, said   Ustadz M. Taufik AB. (*)
Author : Bambang Bes